Highlights:
An American aerobatic biplane designed and built by Curtis Pitts at Jacksonville, Florida in 1943–1944; all subsequent variants are based on the 1940s design
World leader in aerobatics and sport aviation; won more competitions than any other type in history
Equally at ease upside-down or right-side up
Still constructed by amateur builders in the United States and Canada
S-2 two-seater variant first flew in 1967; still in production by Aviat Aircraft as of 2011
Type popularized by American air show performer Betty Skelton; her aircraft was nicknamed "Little Stinker"
First flight was in 1973
Image Gallery:
History:
Pitts Specials carry a high profile in the world of sport aviation as they are acknowledged to be one of the world's leading aerobatic aircraft, winning more competitions than any other type in history. These nimble aircraft incorporate different upper and lower wing sections that provide inverted performance equal to conventional "right side up" flight. This wing design also facilitates outside loops. The original Pitts design dates from the early 1940s and over the years more powerful engines and various aerodynamic modifications have led to several models that are capable of unlimited aerobatics carrying two persons.
Current Location:
Reserve Hangar, Canada Aviation and Space Museum
Provenance:
Donation with cultural property certification
This S-2A was manufactured by Aerotek Inc., of Afton, Wyoming, in 1973. During the 1970s, it was used by Canada's first civilian aerobatic team, the famous Carling Red Caps aerobatic team. This S-2A is the last surviving aircraft used by this aerobatic team. It was also flown by the Canadian Reds and the Ray-Ban Golds: teams that came after the Red Caps.
During the 1980s and the early 1990s, the S-2A was flown by William Cowan of White Rock, British Columbia. From 1995 to 2002, David Gillespie of Corman Park, Saskatchewan performed in the aircraft, primarily in Saskatchewan.
The aircraft was donated to the Museum in 2003. During the years that it was used, it was modified a number of times to incorporate changes that had been introduced in later Pitt Special models. The aircraft's current markings reflect its final years as a member of the Ray-Ban Golds team.
Technical Information:
| | |
| --- | --- |
| Wing Span (upper) | 6.1 m (20 ft) |
| Length | 5.7 m (18 ft 9 in) |
| Height | 2 m (6 ft 7 in) |
| Weight, Empty | 522 kg (1,150 lb) |
| Weight, Gross | 737 kg (1,625 lb) |
| Cruising Speed | 280 km/h (175 mph) |
| Max Speed | 340 km/h (210 mph) |
| Rate of Climb | 820 m (2,700 ft) /min |
| Service Ceiling | 6,400 m (21,000 ft) |
| Range | 515 km (320 mi) |
| Power Plant | Lycoming IO-540-D4A5, 260 hp |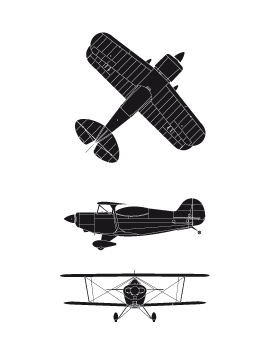 Canada Aviation and Space Museum
Manufacturer
Pitts Aviation Enterprises Incorporated
Manufacturer Location
United States
Registration Number
C-FAMR