Highlights:
An autogyro, a cousin of the helicopter kept aloft by a rotor which rotated freely, made by Pitcairn-Cierva Autogyro Company in the U.S. around 1931-32.
Developed by American Harold Pitcairn, who based his models on the autogyros designed by Spain's Juan de la Cierva in the 1920s
In 1931, it became the first rotary-wing aircraft certified for commercial use in the U.S. and first rotary-wing aircraft registered in Canada (imported by Fairchild Aircraft Company of Longueuil, Quebec)
A Canadian PCA-2 was flown by Fairchild's pilot Godfrey Dean at Willow Grove, Pennsylvania, when he made the first ever loop-the-loop in a rotary-wing aircraft, in September 1931
First flight was in March 1930
Image Gallery:
History:
The first Pitcairn-Cierva autogyro PCA-1 flew in 1929, soon followed by the much improved PCA-2. In April 1931, the PCA-2 became the first rotary-winged aircraft certified for commercial use in the United States. The 24 PCA-2s built for the US Navy, were designated XOP. Fairchild soon imported a PCA-2 as the first rotary-winged aircraft registered in Canada. Interest in autogyros declined due to their high cost, mechanical inefficiency, high fuel consumption, and inferiority to the helicopter.
The autogyro is a rotary-winged aircraft. Unlike the helicopter, the rotor is not powered, but rotate as a result of the forward motion of the aircraft. Consequently the autogyro cannot hover, but instead can climb and descend almost vertically, as well as land and take-off with a very short run. Before take-off in early autogyros, someone on the ground would have to spin the rotor. The pilot then taxied on the ground to rotate the rotor up to take-off speed. The rotor of the PCA-2 could be "pre-spun" by a drive-shaft from the engine. A Canadian PCA-2 made the first loop by a rotary-winged aircraft.
Current Location:
Reserve Hangar, Canada Aviation and Space Museum
Provenance:
Purchase
This aircraft was manufactured in the United States in 1931. It was used by the Standard Oil Company of New York for testing until it was sold to the Sealed Products Corporation. This company used it for tests and for advertising. In 1932, it flew 96,000 kilometres to visit 225 cities in twenty-two states and Mexico to promote the company's products. Details of ownership between 1935 and 1946 are unknown. Sometime during the 1930s, its original 300 hp Wright R-975 engine was replaced by a 420 hp R-975-E2, changing its model designation from a PCA-2 to a PA-21. The Museum purchased the aircraft from the Connecticut Aviation Historical Association in 1969.
Technical Information:
| | |
| --- | --- |
| Wing Span | 9.1 m (30 ft) |
| Rotor diameter | 13.7 m (45 ft) |
| Length | 7 m (23 ft 1 in) |
| Height | 4 m (13 ft) |
| Weight, Empty | 920 kg (2,030 lb) |
| Weight, Gross | 1,360 kg (3,000 lb) |
| Cruising Speed | 158 km/h (98 mph) |
| Max Speed | 190 km/h (118 mph) |
| Rate of Climb | 244 m (800 ft) /min |
| Service Ceiling | 4,570 m (15,000 ft) |
| Range | Unknown |
| Power Plant | one Wright R-975-E2 Whirlwind, 420 hp, radial engine |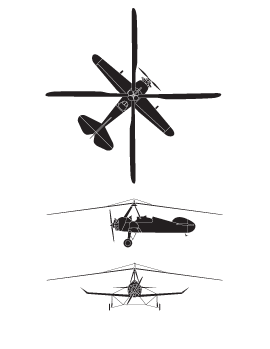 Canada Aviation and Space Museum
Manufacturer
Pitcairn Aircraft Inc.
Manufacturer Location
United States
Registration Number
NC2524 (USA)