Highlights:
A U.S. twin-engine medium bomber designed and manufactured by North American Aviation Incorporated from 1940 to 1945
Designed for the U.S. Army Air Corps / Forces; used by many Allied air forces in all theatres of the war
Also used for ground attack once fitted with multiple forward-firing machine guns
Sixteen B-25s were used in a 1942 attack on Japan, in retaliation for the Pearl Harbor attack
Used by the RCAF for photo research, transport and training, mainly after the war and into the 1960s
Only American military aircraft named after an individual: General "Billy" Mitchell (a pioneer of U.S. military aviation)
First flight was on August 19, 1940
Image Gallery:
History:
The Mitchell was a highly successful Second World War bomber and ground-attack aircraft which flew on every major front. Many versions of the Mitchell were produced: some with more powerful engines, some with heavy armament for surface attack, and some for pilot training and fast-transport duties. The Mitchell continued in service in the postwar era. The RCAF used both bombing and training versions well into the 1960s. Nearly 11 000 Mitchells were built in the United States between 1940 and 1945.
In 1942 Mitchell bombers flew off the aircraft carrier USS Hornet on the famous Doolittle raid to Japan. Because the Mitchell was far too large to land back on the carrier, the raiders flew on towards China. The surviving aircraft crash-landed there.
For surface attack some Mitchells were fitted with as many as 12 forward-firing machine guns. Others carried a 75-mm cannon, one of the heaviest guns ever fitted in an aircraft. The cannon's 21 shells, each weighing 6.8 kg (15.1 lb), had to be hand-loaded by the navigator.
Current Location:
Reserve Hangar, Canada Aviation and Space Museum
Provenance:
Transfer from the Royal Canadian Air Force
North American Aviation Incorporated in Kansas City manufactured this Mitchell as a B-25J for the United States Army Air Forces in 1945. Its early American service history is unknown, but prior to 1952 it was converted into a TB-25L pilot trainer.
In January 1952 the aircraft was taken on strength by the RCAF. It served at No. 1 Flying Instructor School in Trenton, Ontario until 1959. It was then briefly flown by No. 5 Air Observer School in Winnipeg, Manitoba before going to the RCAF's Central Experimental and Proving Establishment at Uplands airport.
In 1962 the Mitchell was stored in Dunneville, Ontario. The RCAF at Trenton refinished it in the markings of a No. 98 Squadron RAF aircraft in 1964, and it became part of the Museum's collection later that year.
Technical Information:
| | |
| --- | --- |
| Wing Span | 20.6 m (67 ft 7 in) |
| Length | 16.1 m (52 ft 11 in) |
| Height | 5 m (16 ft 4 in) |
| Weight, Empty | 8,808 kg (19,418 lb) |
| Weight, Gross | 15,873 kg (35,000 lb) |
| Cruising Speed | 370 km/h (230 mph) |
| Max Speed | 438 km/h (272 mph) |
| Rate of Climb | 4,570 m (15,000 ft) / 19 min |
| Service Ceiling | 7,380 m (24,200 ft) |
| Range | 2,173 km (1,350 mi) |
| Power Plant | two Wright R-2600-13, 1,700 hp, radial engines |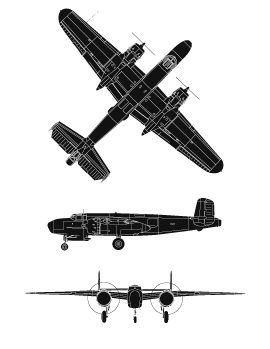 Canada Aviation and Space Museum
Manufacturer
North American Aviation Inc.
Manufacturer Location
United States
Registration Number
5244 (RCAF)