Highlights:
Designed in Canada in 1935 by aircraft designer and manufacturer Robert Bernard Cornelius "Bob" Noorduyn (who had worked on the Fokker Universal, the Bellanca Skyrocket and the Pitcairn Autogiro)
Developed for transportation to remote locations, it was the first Canadian-designed bush plane
Flown by Canadian and American forces during the Second World War, it was the first Canadian-designed aircraft to be adopted by the U.S. military
Popular in the North due to its ability to take off and land on difficult terrain
Known as "the one-ton flying truck" and "the workhorse of the skies"
Produced after the Norseman IV but before the Norseman V, the company choosing to reserve the latter until after the war, as a symbol for Victory as well as a number
First flight was on November 14, 1935 (prototype)
Image Gallery:
History:
The Norseman I was designed to fit requirements identified by Canadian pilots and operators. Early Norseman aircraft were underpowered, but with a more powerful engine and a few modifications, the Mk.IV reached its full potential. Mk.IVs and VIs flew in the RCAF. The US Army Air Forces ordered VIs in quantity. The V produced after the war was the last civil version. When production ended in 1959, 904 Norsemans had been built. Some were still operating commercially in the early 1990s.
The Norseman was rugged and reliable with a large cargo area. The cargo door could accommodate a standard 45-gallon fuel drum, an essential item in all northern operations. It also had separate cockpit and fuselage doors so that the pilots could get in and out without disturbing passengers or cargo. The designation "Norseman V" was reserved by the company until the end of the war to represent the Winston Churchill's "V for Victory" symbol.
Current Location:
Bush flying Exhibition, Canada Aviation and Space Museum
Provenance:
Transfer from the Royal Canadian Air Force
Built in 1943, this Norseman VI was flown by No. 3 Wireless School in Montreal during the Second World War, and was used to train wireless operators. Between 1945 and 1950, it served as a communications, search-and-rescue, and transportation aircraft across Canada. In 1950, it served with No. 121 Communications and Rescue Flight, still bearing the RCAF markings from its last year of active service. The aircraft was transferred to the Museum in February 1964.
Technical Information:
| | |
| --- | --- |
| Wing Span | 15.7 m (51 ft 6 in) |
| Length | 9.8 m (32 ft) |
| Height | 3.1 m (10 ft 3 in) |
| Weight, Empty | 2,123 kg (4,680 lb) |
| Weight, Gross | 3,357 kg (7,400 lb) |
| Cruising Speed | 238 km/h (148 mph) |
| Max Speed | 261 km/h (162 mph) |
| Rate of Climb | 1,520 m (5,000 ft) / 6.5 min |
| Service Ceiling | 5,180 m (17,000 ft) |
| Range | 1,851 km (1,150 mi) |
| Power Plant | one Pratt & Whitney R-1340-AN-1 Wasp, 600 hp, radial engine |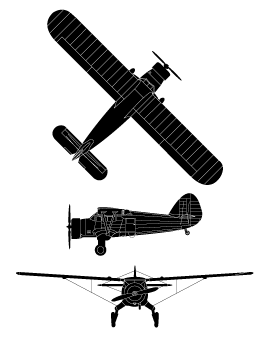 Canada Aviation and Space Museum
Manufacturer
Noorduyn Aircraft Ltd.
Manufacturer Location
Canada
Registration Number
787 (RCAF)