Highlights:
A sesquiplane (biplane with wings of different size) used for reconnaissance during the First World War; also served as a fighter aircraft and an escort to France's heavier bombers
Used by Flight Sub-Lieutenant Arthur Ince as he became the first Canadian to shoot down an enemy aircraft during the First World War
Predecessor of the Nieuport 17
First flight was in 1915
Image Gallery:
History:
Designed for observation, the Nieuport 12 served with the Royal Flying Corps, the Royal Naval Air Service and the air forces of France, Italy and Russia. The aircraft operated with the RFC and RNAS in 1916, but was not popular with crews and was withdrawn from front-line operation by the spring of 1917.
The first Canadian aerial victory of First World War was achieved by a Canadian gunner in the similar Nieuport 10, in December 1915.
Current Location:
First World War Exhibition, Canada Aviation and Space Museum
Provenance:
Transfer from the Royal Canadian Air Force
Built in 1915, this Nieuport 12 was a gift to Canada from the Government of France. Transported from France to Halifax by steamship in February 1917, the War Trophies Board exhibited the aircraft across North America as a war relic, to raise public support for the war effort. This Nieuport was the first aircraft that the Canadian government retained for its historical significance, and is one of only two known to exist worldwide. It was transferred to the Canadian War Museum in the 1930s and to this Museum in 1965. In the 1990s, the Museum's skilled conservation team restored it to appear as it would have during its 1917 exhibition tour.
Technical Information:
| | |
| --- | --- |
| Wing Span | 9 m (29 ft 6 3/8 in) |
| Length | 7 m (23 ft) |
| Height | 2.7 m (8 ft 10 1/4 in) |
| Weight, Empty | 550 kg (1,213 lb) |
| Weight, Gross | 850 kg (1,874 lb) |
| Cruising Speed | Unknown |
| Max Speed | 146 km/h (91 mph) |
| Rate of Climb | 1,000 m (3,280 ft) / 5 min 40 sec |
| Service Ceiling | 4,000 m (13,120 ft) |
| Range | Unknown |
| Power Plant | one Clerget 9Z, 110 hp, rotary engine |
http://ingeniumcanada.org/sites/default/files/2019-05/Nieuport12.png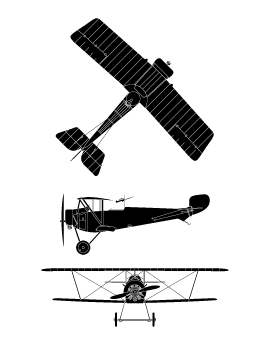 Canada Aviation and Space Museum
Manufacturer
Société anonyme des établissements Nieuport
Manufacturer Location
France