Highlights:
A German, Second World War bomber interceptor designed by Alexander Martin Lippisch with Messerschmitt AG
The only operational, rocket-powered combat aircraft and, in its time, the fastest aircraft in the world
Boasted good flying characteristics but was difficult on take-off and extremely dangerous on landing
Proved unsuccessful as an interceptor because its speed made it difficult to hit targets
Its electrical system was powered by a tiny, wind-driven propeller on the aircraft's nose
Often assembled by forced labourers; some airplanes were deliberately sabotaged
First flight was in August 1943
Image Gallery:
History:
As the only operational rocket-powered fighter of Second World War, the Komet was designed to exceed the performance of conventional aircraft. Originally tested as a glider, the tailless design incorporated a wheeled dolly dropped during takeoff, and a landing skid under the fuselage. The Komet first flew operationally in May 1944. Though the Komet was not a significant factor in German air defence, the German Air Force took delivery of 339 and flew them until the end of the war.
Current Location:
Second World War Exhibition, Canada Aviation and Space Museum
Provenance:
Transfer from the Royal Canadian Air Force
A number of factories were involved in the manufacture of this Komet before it was assembled by Klemm Technik GmbH in Germany, in 1945. It was delivered to the Luftwaffe fighter unit JG/400, captured at Husum, Germany, in May 1945 and sent to the United Kingdom for testing. It was shipped to Montreal as a war prize in 1946.
Having been taken apart in the U.K. for shipping, the Komet was reassembled at Rockcliffe airport by the RCAF in September 1946. It was held in storage at various locations, beginning in Winnipeg at North West Air Command, until being moved to No. 10 Repair Depot Detachment at Portage la Prairie in 1950. It then appears to have been stored at Charter, Manitoba, Macdonald, Manitoba and Lincoln Park, Alberta, before it was transferred to the Canadian War Museum in 1964. Here, it was refinished and displayed in the Luftwaffe JG/400 markings. Although officially transferred to this Museum in 1967, it was located at the War Museum until the 1980s.
Between 2000 and 2001, Aviation Museum conservation staff restored the aircraft, finding some of its original colours and markings underneath accumulated layers of paint.
Technical Information:
With only 7.5 minutes of full power, the Komet climbed to operational altitude, then glided to a landing after its fuel was exhausted. With power either turned on or off, flight at altitude consisted of gliding interspersed with short bursts of power. Combustion in the temperamental rocket motor depended upon the critical mixture of two chemicals which generated extreme heat when combined. The aircraft was prone to explosion upon landing if fuel remained in the tanks. Despite exceptional flying characteristics, the Komet was unsuccessful as an interceptor because of its fast closing speed and slow-firing, short-range cannon. A pilot had to be very good or very lucky to hit a target.
| | |
| --- | --- |
| Wing Span | 9.3 m (30 ft 6 in) |
| Length | 5.9 m (19 ft 4 1/4 in) |
| Height | 2.8 m (9 ft 2 1/4 in) |
| Weight, Empty | 1,905 kg (4,200 lb) |
| Weight, Gross | 4,310 kg (9,502 lb) |
| Cruising Speed | 925 km/h (575 mph) |
| Max Speed | 955 km/h (593 mph) |
| Rate of Climb | 4,875 m (16,000 ft) /min |
| Service Ceiling | 12,190 m (40,000 ft) |
| Range | 185 km (115 mi) |
| Power Plant | one Walter HWK 109.509A-2 rocket engine, 1,700 kg (3,748 lb), static thrust |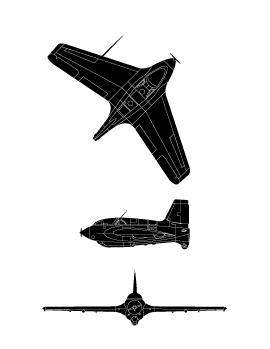 Canada Aviation and Space Museum
Manufacturer
Klemm Technik GmbH
Manufacturer Location
Germany
Registration Number
191916 (GAF)