Highlights:
A German single-engine fighter designed by Willy Messerschmitt; more than 33,000 produced in Germany and elsewhere from 1935 to 1956
First saw action in 1937 during the Spanish Civil War
One of the most significant German aircraft of the Second World War, if not the twentieth century
Among the first fighter aircraft to include an all-metal structure, a retractable landing gear, an enclosed cockpit, and a variable-pitch propeller
Longer history of production and service than any other piston-powered fighter
The F model is considered the pinnacle of Bf 109 development, having the nicest flying characteristics of all versions
First flight was in 1935 (Prototype)
Image Gallery:
History:
The Messerschmitt Bf 109 is one of the greatest fighter aircraft of all time. When the prototype flew in 1935, it was the most advanced fighter in the world. Fitted with ever more powerful engines and weapons, this aircraft remained a formidable opponent even in the later years of the Second World War.
The Bf 109 served everywhere the German Luftwaffe was engaged and the type was used by a dozen other air forces. With more than 33,000 built between 1935 and 1956, it can boast a longer history of production and service than any other piston-powered fighter. Fast and powerful, the Bf 109F introduced in late 1940 had the nicest flying characteristics of all Bf 109 versions.
Current Location:
Second World War Exhibition, Canada Aviation and Space Museum
Provenance:
Exchange
This Messerschmitt Bf 109F-4 was manufactured in Germany by Erla Maschinenwerk in 1942 for the Luftwaffe. In August of that year, the aircraft was damaged during aerial combat and crash-landed near the Arctic port of Murmansk in the Soviet Union. The pilot survived.
Little is known about the aircraft after this point. It was eventually crudely restored for display in a Soviet museum. In the mid-1990s, it was acquired by Aero Vintage Ltd., a British restoration organization, and refinished in its original colours. The original bullet holes were not repaired, and remain visible.
The Messerschmitt Bf 109F-4, which belonged to Mr. Jeet Mahal, was acquired through exchange with Aero Vintage Ltd., England, for one of the Museum's two Messerschmitt Me 163B Komet rocket fighters. A Canadian Forces aircraft delivered the Bf 109 to the Museum in the early part of June 1999, where it was reassembled and put on display.
Technical Information:
| | |
| --- | --- |
| Wing Span | 9.92 m (32 ft 6 1/2 in) |
| Length | 8.9 m (29 ft 2 1/2 in) |
| Height | 2.6 m (8 ft 6 1/2 in) |
| Weight, Empty | 2,390 kg (5,270 lb) |
| Weight, Gross | 2,900 kg (6,395 lb) |
| Cruising Speed | Unknown |
| Max Speed | 624 km/h (388 mph) |
| Rate of Climb | 3,000 m (9,845 ft) / 2.6 min |
| Service Ceiling | 12,000 m (39,375 ft) |
| Range | 850 km (530 mi) (with drop tank) |
| Power Plant | One 1,350 hp Daimler-Benz DB 601E inverted-vee engine |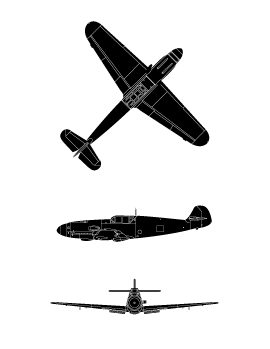 Canada Aviation and Space Museum
Manufacturer
Erla-Maschinenwerk
Manufacturer Location
Germany
Registration Number
10132 (German air force)