Highlights:
Oldest surviving Canadian-built aircraft
Designed and built by Robert McDowall, an aviation enthusiast, land surveyor and civil engineer from Ontario
Inspired by McDowall's first sighting of airplanes, during a 1910 visit to England and France
Similar in general design to a Blériot XI (which McDowall would have seen in France)
Built in a machine shop between 1912 and 1915
Could not – technically – fly, although it could perform short "hops"
First flight was in 1915 (attempts)
Image Gallery:
History:
In the early days of flying it was not unusual for aviation enthusiasts to design, build, and fly their own airplanes. The McDowall Monoplane was built in a carriage shop between 1912 and 1915, but made only a few short hops and was then stored. Two school boys attempted alterations in 1916-17. After 1920 a new owner removed the wings and fitted skis to use it as an ice scooter near Durham, Ontario. It was resold in 1954 and again stored.
Due to the builder's lack of airplane design experience, the aircraft was tail-heavy and had no provision for lateral control. This failing was recognized by the school boys who in 1917 cut pieces out of the wings in an attempt to install ailerons. The boys also tried to improve the performance of the used three-cylinder, air-cooled Anzani engine, but the aircraft never flew again.
Many Canadians produced their own airplanes before the onset of the First World War. Pioneering aviator Robert McDowall of Owen Sound, Ontario was inspired to build this aircraft after seeing heavier-than-air flying machines for the first time during a visit to England and France in spring 1910. He designed and built this aircraft in a carriage shop between 1912 and 1915. After several unsuccessful flying attempts, McDowall put his aircraft into storage.
In 1916 or 1917, two schoolboys attempted to improve upon McDowall's design by making alterations to the airplane's engine and wings. Despite these changes, the aircraft never flew. Around 1920, Edward Pratt of Durham, Ontario bought the monoplane and used it as an ice scooter, selling it in 1954 to Keith Hopkinson of Goderich, Ontario, who hung it from the rafters of his hangar.
In 1967, the Museum purchased the aircraft from the Hopkinson estate and it was displayed for several years at the Canada Science and Technology Museum. Between 1984 and 1986, the Museum restored the monoplane to its original condition, as constructed by McDowall.
Current Location:
Pioneer Era Exhibition, Canada Aviation and Space Museum
Provenance:
Purchase
Technical Information:
| | |
| --- | --- |
| Wing Span | 8.4 m (27 ft 6 in) |
| Length | 6.6 m (21 ft 6 in) |
| Height | 2.3 m (7 ft 5 in) |
| Weight, Empty | Unknown |
| Weight, Gross | Unknown |
| Cruising Speed | Unknown |
| Max Speed | Unknown |
| Rate of Climb | N/A |
| Service Ceiling | N/A |
| Range | N/A |
| Power Plant | one Anzani, 25 hp, fan-type engine |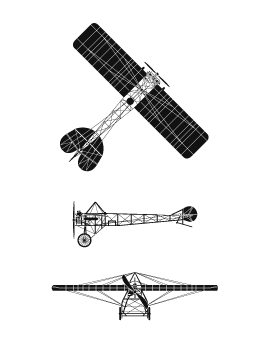 Canada Aviation and Space Museum
Manufacturer Location
Owen Sound, Ontario