Highlights:
An American single-seater jet fighter designed and produced by McDonnell Aircraft Corporation from 1948 to 1953
A larger and more powerful version of an earlier McDonnell fighter aircraft
Its wings folded to save space on aircraft carriers
Used in the Korean War as an escort for U.S. Navy long-range bombers
Served as the Royal Canadian Navy's only jet fighter; operated from land bases and carrier HMCS Bonaventure
Was the first Canadian fighter aircraft with air-to-air missiles: the AIM-9 Sidewinder missile
Used by the Royal Canadian Navy's Grey Ghost aerobatic team
First flight was in August 1948 (F2H-1)
Image Gallery:
History:
The Banshee entered US Navy service in 1948 as their second carrier jet fighter. They served with distinction with the USN in Korea. The Banshee replaced the Royal Canadian Navy's Hawker Sea Fury as the RCN's first and only jet fighter. The RCN acquired 39 Banshees from 1955 to 1958. Banshees operated from shore bases and from the aircraft carrier HMCS Bonaventure after 1957. The Banshee was the RCN's last fighter and was not replaced when retired in 1962. A total of 805 were made.
RCN pilots deserve credit for being able to operate the Banshee successfully from the carrier HMCS Bonaventure. Its small size made jet-fighter operation difficult.
Current Location:
Reserve Hangar, Canada Aviation and Space Museum
Provenance:
Donation from the Royal Canadian Navy
This Banshee was manufactured in 1953 by McDonnell Aircraft Corporation in St. Louis, Missouri. It was accepted by the U.S. Navy in April of the same year and served at naval stations in Florida and Virginia, and on three aircraft carriers.
The Royal Canadian Navy acquired the aircraft in August 1957. It alternated service between shore base HMCS Shearwater and the carrier HMCS Bonaventure. It was also used as part of the Royal Canadian Navy's aerobatic team, the Grey Ghosts.
When the aircraft was retired in 1962, it was kept outside at HMCS Shearwater and was stripped of some of its equipment. In 1965 it was donated to the Canadian War Museum and moved to Rockcliffe airport. It later became the property of the Museum. From 1975 to 1986, the aircraft was restored by No. 400 Air Reserve Squadron, with assistance from No. 411 Squadron at Downsview, Ontario.
Technical Information:
| | |
| --- | --- |
| Wing Span | 12.7 m (41 ft 9 in) |
| Length | 14.7 m (48 ft 2 in) |
| Height | 4.4 m (14 ft 6 in) |
| Weight, Empty | 5,980 kg (13,183 lb) |
| Weight, Gross | 9,531 kg (21,013 lb) |
| Cruising Speed | 742 km/h (461 mph) |
| Max Speed | 933 km/h (580 mph) |
| Rate of Climb | 1,829 m (6,000 ft) /min |
| Service Ceiling | 14,200 m (46,600 ft) |
| Range | 1,883 km (1,170 mi) |
| Power Plant | two Westinghouse J34-WE-34 axial flow engines, 1,450 kg (3,200 lb) static thrust |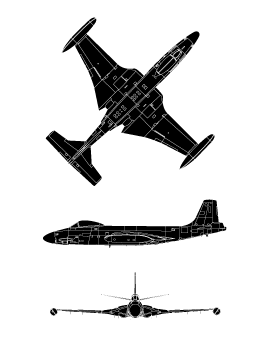 Canada Aviation and Space Museum
Manufacturer
McDonnell Aircraft Corporation
Manufacturer Location
United States
Registration Number
126464 (RCN)