Highlights:
An American twin-jet-engine airliner designed and produced by the Douglas Aircraft Co., McDonnell Douglas Corporation and Boeing Co. from 1965 to 2006
Designed for short flights to and from small airports; complemented the larger DC-8
Used by Air Canada predecessor Trans-Canada Air Lines to replace Vickers Viscounts; first jet airliner on which many Canadians flew
Longest-serving Air Canada type so far; from 1966 to 2002
Important components made by de Havilland Canada in former Avro Canada factory
Most commercially successful Douglas airliner
First flight was in 1966
Image Gallery:
History:
The DC-9 was the first twin-jet airliner to be operated in Canada and was no doubt the aircraft on which countless Canadians made their first jet flight. In 1966, Air Canada became the first airline outside of the United States to operate the type. Many of the aircraft's larger components such as wings, rear fuselage and tail unit assemblies were manufactured in Canada.
During the 1950s, Air Canada's predecessor company, Trans-Canada Air Lines, had pioneered turbine powered passenger travel in North America with Vickers Viscount propeller-driven airliners. These turbo-props were then replaced in turn by fan-jet DC-9s. At the height of their deployment, Air Canada had a fleet of fifty DC-9s serving most of its destinations in North America. For over thirty years these easily recognized jet transports, with their aft mounted turbofan engines, gave outstanding service as the mainstay of the airline's short-haul routes.
Current Location:
Reserve Hangar, Canada Aviation and Space Museum
Provenance:
Donation
This DC-9 was manufactured in 1968 by the McDonnell Douglas Corporation of St. Louis, Missouri and was acquired by Air Canada the same year. It flew 81,558 hours: more than any other Air Canada DC-9. It also flew the most trips overall, taking off and landing 72,464 times.
The Museum's aircraft was donated by Air Canada in 2002 after making the last flight of a DC-9 in Air Canada markings. It had been repainted in its original 1968 colours.
Technical Information:
| | |
| --- | --- |
| Wing Span | 28.5 m (93 ft 5 in) |
| Length | 36.4 m (119 ft 3 1/2 in) |
| Height | 8.4 m (27 ft 6 in) |
| Weight, Empty | 24,005 kg (52,935 lb) |
| Max Take-Off Weight | 48,980 kg (108,000 lb) |
| Cruising Speed | 789 km/h (490 mph) |
| Cruise Altitude (typical) | 10,058 km (33,000 ft) |
| Range (full passengers) | 2,036 km (1,265 mi) |
| Power Plant | Two Pratt and Whitney JT8D-7B turbofans, 6,350 kg (14,000 lb) static thrust |
| Seats (typical) | 91 |
| Cargo Capacity | 1,547 kg (3,410 lb) |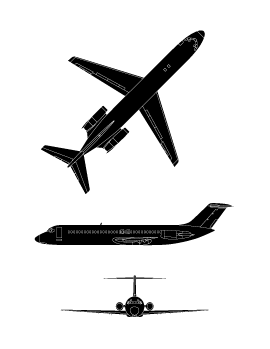 Canada Aviation and Space Museum
Manufacturer
McDonnell Douglas
Manufacturer Location
United States
Registration Number
CF-TLL