Highlights:
An American supersonic jet fighter designed and produced by McDonnell Aircraft Corporation from 1953 to 1959
Used for ground attack, photographic reconnaissance, all-weather interception and training
Employed as a reconnaissance aircraft during the Cuban Missile Crisis and the Vietnam War
Replaced the Avro Canada CF-100 with the Royal Canadian Air Force; selected after Avro Arrow cancellation in 1959
Retired by Canadian Forces after twenty-four years; replaced by McDonnell Douglas CF-188
Named after a Caribbean religion; other McDonnell aircraft named after the supernatural include Phantom, Banshee and Goblin
One of the most reliable fighter aircraft of its time
First flight was in March 1957 (F-101B)
Image Gallery:
History:
The CF-101 Voodoo was a much more powerful version of the F-88 escort fighter. The most important models were the F-101B all-weather interceptor and its trainer version. Deliveries of F-101Bs to the United States Air Force began in 1959. After the Avro Canada Arrow was cancelled, the Voodoo began to replace the aging Avro Canada CF-100 in the RCAF in 1961. Five Canadian squadrons flew Voodoos as part of NORAD. They were finally retired from the Canadian Forces in 1984 after 24 years of satisfactory service.
As well as setting a series of speed records, the Voodoo had the best contemporary safety record of any fighter aircraft in the US Air Force. All CF-101B Voodoos were ex-USAF aircraft; none was built specifically for Canada. The first production F-101 went supersonic on its first flight.
Current Location:
Jet Age Exhibition, Canada Aviation and Space Museum
Provenance:
Transfer from the Canadian Armed Forces
This Voodoo was manufactured by McDonnell Aircraft Corporation in St. Louis, Missouri in 1959. That same year, it was sent to Glasgow, Montana, where it flew with the 13th Fighter-Interceptor Squadron of the U.S. Air Force. From there it went to a support base in Utah. The aircraft ended its U.S. career flying with the 87th Fighter-Interceptor Squadron between July 1968 and January 1970.
In February 1971, the Voodoo was transferred to the Canadian Armed Forces in a batch sent to replace earlier Voodoos in Canadian service. The aircraft was refurbished by Bristol Aerospace of Winnipeg, Manitoba. It served with No. 409 Squadron at Comox, British Columbia from March 1972 to June 1980, and then with No. 416 Squadron at Chatham, New Brunswick from December 1980 to July 1984.
The Museum acquired the Voodoo in 1984. It was flown to Uplands airport in Ottawa and then airlifted to Rockcliffe airport by a No. 450 Squadron Boeing CH-147 Chinook helicopter.
Technical Information:
| | |
| --- | --- |
| Wing Span | 11.8 m (38 ft 8 in) |
| Length | 20.5 m (67 ft 5 in) |
| Height | 5.5 m (18 ft) |
| Weight, Empty | 13,141 kg (28,970 lb) |
| Weight, Gross | 24,796 kg (54,664 lb) |
| Cruising Speed | 887 km/h (551 mph) |
| Max Speed | 1,825 km/h (1,134 mph) |
| Rate of Climb | 14,996 m (49,200 ft) /min |
| Service Ceiling | 16,700 m (54,800 ft) |
| Range | 3,110 km (1,930 mi) |
| Power Plant | two Pratt & Whitney J57-P-55 axial flow jet engines, 7,575 kg (16,700 lb) static thrust, with afterburner |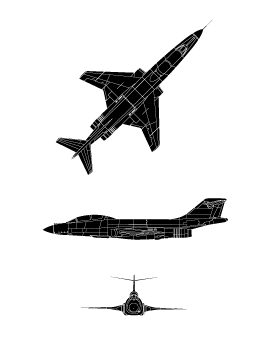 Canada Aviation and Space Museum
Manufacturer
McDonnell Aircraft Corporation
Manufacturer Location
United States
Registration Number
101025 (CAF)