Highlights:
A two-seater biplane developed just before the First World War by Farman Frères, a French aircraft company founded in 1908 by pioneering aviators Maurice and Henri Farman
A "pusher aircraft," in which the engine is located in front of the rear-facing propeller
Used initially for reconnaissance and light bombing, and later by the Allied forces as a trainer
Called the "Shorthorn" because it lacked the distinctive forward elevator of its predecessor, the Farman S.7 Longhorn
First flight was in late 1913
Image Gallery:
History:
Like many early First World War aircraft, the Shorthorn is a pusher with the engine in the rear of the nacelle. Designed and first flown in France, the Shorthorn was adopted by the air forces of Australia, Belgium, Britain, France, Italy, and Russia. It was manufactured under licence in Britain and Italy. During its early war service in reconnaissance and light bombing, the Shorthorn carried no defensive armament. It was later relegated to training duties. The Shorthorn retired from RAF service in 1918.
This aircraft was called the Shorthorn because it lacked the distinctive forward elevator of the Farman S.7 Longhorn. The pusher configuration, with the pilot well forward of the wings, was ideal for observation and bombing. The crew had to be careful not to allow loose objects to fly from the cockpit into the propeller. The Shorthorn configuration could be dangerous in an accident because the engine was liable to hurtle forward and injure the crew.
Current Location:
First World War Exhibition, Canada Aviation and Space Museum
Provenance:
Purchase
Manufactured by Aircraft Manufacturing Company (Airco) for the Royal Flying Corps in 1915–1916, this Shorthorn is one of four that were sent to Australia in 1917 for flight training. It was used for this purpose at Point Cook until 1919, when it was sold as surplus. In storage throughout the 1930s, the aircraft was restored and made airworthy in the 1950s. In 1956, American stunt pilot Frank Tallman purchased it and flew it in California. The aircraft was owned by two aviation museums in later years, before this Museum bought it at auction in 1981.
Technical Information:
| | |
| --- | --- |
| Wing Span | 15.78 m (51 ft 9 in) |
| Length | 9.3 m (30 ft 6 in) |
| Height | 3.15 m (10 ft 4 in) |
| Weight, Empty | 654 kg (1,442 lb) |
| Weight, Gross | 928 kg (2,046 lb) |
| Cruising Speed | Unknown |
| Max Speed | 116 km/h (72 mph) |
| Rate of Climb | 1,000 m (3,280 ft) / 8 min |
| Service Ceiling | Unknown |
| Range | Unknown |
| Power Plant | one Renault, 80 hp, V-8 engine |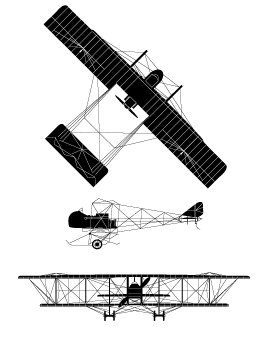 Canada Aviation and Space Museum
Manufacturer
Aircraft Manufacturing Company Ltd.
Manufacturer Location
Great Britain
Manufacture Date
1915-1916
Registration Number
VH-UBC (Australia)