Highlights:
A twin-engine airliner manufactured in the U.S. between 1936 and 1942 by Lockheed Aircraft Corporation; carried two pilots and six passengers
Smaller than the Lockheed 10A Electra, it was popular with corporate and private buyers rather than airlines
During the Second World War, ten were flown by the RCAF (they were later sold as surplus and flown privately)
Three British Lockheed 12As with hidden cameras photographed areas of Germany before the outbreak of the Second World War
Featured in the final scene of the 1942 film Casablanca and served as a stand-in for Amelia Earhart's Lockheed 10 in the 2009 film Amelia
First flight was on June 27, 1936
Image Gallery:
History:
Designed as a smaller version of the 10A, the Lockheed 12A was well liked by corporate operators and private individuals, but less popular with feeder airlines who considered them too small. Many were used by the US Army Air Corps and other air forces. The RCAF had ten Lockheed 12As on strength during Second World War. These were later sold as surplus and continued to fly with private operators after the war. Production was terminated early in Second World War.
Three British Lockheed 12s with hidden cameras secretly photographed areas of Germany before the outbreak of Second World War.
Current Location:
Reserve Hangar, Canada Aviation and Space Museum
Provenance:
Donation from Department of Transport
This aircraft was the only Model 12 to be registered in Canada before the Second World War. It was bought in May 1936 by the newly established Department of Transport, which needed a modern high-performance aircraft to use in surveying routes for the proposed trans-Canada airway, and setting up and calibrating the department's radio facilities. The aircraft spent its entire working life with the Department of Transport.
This Electra Junior is best remembered for its July 31, 1937 journey: the first same-day Montreal-to-Vancouver flight, which had five stops along the way. The flight was arranged to take the Minister of Transport, the Honourable C. D. Howe, and other government officials over the proposed airway route.
The Museum added this aircraft to the collection when it was retired in 1963 after more than twenty-five years of work. It was considered a fine example of a light transport of the period and an aircraft that had played a major part in establishing Canada's airway system.
Technical Information:
| | |
| --- | --- |
| Wing Span | 15.1 m (49 ft 6 in) |
| Length | 11.1 m (36 ft 4 in) |
| Height | 3 m (9 ft 9 in) |
| Weight, Empty | 2,615 kg (5,765 lb) |
| Weight, Gross | 3,810 kg (8,400 lb) |
| Cruising Speed | 343 km/h (213 mph) |
| Max Speed | 362 km/h (225 mph) |
| Rate of Climb | 427 m (1,400 ft) /min |
| Service Ceiling | 6,980 m (22,900 ft) |
| Range | 1,285 km (800 mi) |
| Power Plant | two Pratt & Whitney R-985-SB Wasp Jr., 450 hp, radial engines |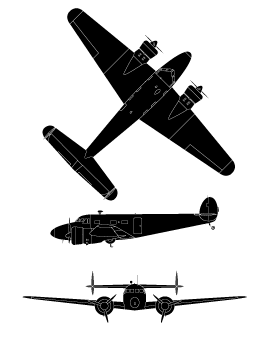 Canada Aviation and Space Museum
Manufacturer
Lockheed Aircraft Corporation
Manufacturer Location
United States
Registration Number
CF-CCT