Highlights:
A U.S.-made, small, twin-engine transport airplane that carried two crew and ten passengers, produced by Lockheed Aircraft Corporation from 1934 to 1941
Lockheed's first all-metal design; ended up competing with the Boeing 247 and the Douglas DC-2
Canada's first modern airliner; two Lockheed 10As were flown by Canadian Airways on the Vancouver–Seattle route in 1936
Flown by Amelia Earhart on the around-the-world flight in which she and her navigator were lost over the Pacific Ocean in 1937
Served in northern Canada in 1937 in the search for missing Soviet pilot Sigismund Levanevsky and crew
First flight was on February 22, 1934
Image Gallery:
History:
The 10A, Lockheed's first all-metal design, was a relatively small twin-engine transport which followed the trend set by the Boeing 247. The Lockheed 10A was used by a number of airlines in the United States and abroad. The two Lockheed 10As that began service in 1936 with Canadian Airways on the Vancouver-Seattle route were Canada's first modern airliners. Trans-Canada Air Lines bought these two aircraft and ordered three more. These and other 10As were acquired by the RCAF during Second World War, and later sold to private operators.
In 1937 Amelia Earhart was flying a Lockheed 10E on a round-the-world flight when she was lost over the Pacific Ocean. The Museum aircraft was flown around the world by Ann Pellegreno between June 9 and July 9, 1967, to commemorate Earhart's last flight.
Current Location:
Airlines Exhibition, Canada Aviation and Space Museum
Provenance:
Donation from Air Canada
Manufactured in 1937, this Electra was the first new aircraft purchased by Trans-Canada Air Lines (TCA). Transferred to the RCAF in 1939, it was then used as a transport plane for six years, with a brief interruption in 1941, when it was loaned back to TCA for six months. From 1946 to 1962, it was owned by a number of individuals and companies, both in Canada and the United States.
Lee Koepke purchased this aircraft in 1962. It was rebuilt, and then flown around the world by Ann Pellegreno to commemorate Amelia Earhart's fatal 1937 flight. Air Canada acquired the aircraft in 1968, restored it and donated it to the Museum. It was displayed at Expo 86 in Vancouver, British Columbia and is now on permanent exhibit in the Museum.
Technical Information:
| | |
| --- | --- |
| Wing Span | 16.8 m (55 ft) |
| Length | 11.8 m (38 ft 7 in) |
| Height | 3.1 m (10 ft 1 in) |
| Weight, Empty | 2,927 kg (6,454 lb) |
| Weight, Gross | 4,672 kg (10,300 lb) |
| Cruising Speed | 306 km/h (190 mph) |
| Max Speed | 325 km/h (202 mph) |
| Rate of Climb | 347 m (1,140 ft) /min |
| Service Ceiling | 5,910 m (19,400 ft) |
| Range | 885 km (550 mi) |
| Power Plant | two Pratt & Whitney R-985 Wasp Jr., 450 hp, radial engines |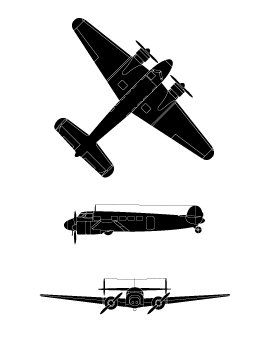 Canada Aviation and Space Museum
Manufacturer
Lockheed Aircraft Corporation
Manufacturer Location
United States
Registration Number
CF-TCA