Highlights:
An American single-engine, supersonic fighter/interceptor aircraft designed and produced by Lockheed Aircraft Corporation and other companies from 1954 to 1979
Featured a lightweight design created in response to Soviet jet fighters
Used by the Royal Canadian Air Force (RCAF) as a NATO fighter in Europe, often replacing the F-86 Sabre
Canadair Limited produced single-seater CF-104s for the RCAF and F-104Gs for NATO countries as part of a U.S. assistance program
Flown by Wing Commander Robert A. White when he set a Canadian altitude record of 30,513 metres (100,110 feet) on December 14, 1967
One of the most widely used supersonic jet fighters of the NATO Alliance
First flight was on March 4, 1954 (F-104)
Image Gallery:
History:
The RCAF selected the F-104 to replace its Sabre fighters in Europe. The small F-104 Starfighter was an attempt to counter the trend towards increasingly heavier fighters after Second World War. As it evolved, however, the F-104 also got heavier, with the G model almost overloaded with equipment and weapons. With engines built by Orenda, Canadair produced 200 single-seat CF-104s and another 140 F-104Gs for NATO countries. The Canadian Forces phased out its Starfighters in 1986.
Current Location:
Jet Age Exhibition, Canada Aviation and Space Museum
Provenance:
Transfer from the Canadian Armed Forces
This Starfighter was built by Lockheed Aircraft Corporation in Burbank, California in 1957. It was accepted by the U.S. Air Force in November of that year and began service at Elgin Air Force Base in Florida. It served with the U.S. Air Force until November 1959 and was then placed in storage in Palmdale, California. The aircraft was shipped to Canadair for use as a pattern aircraft for production of the CF-104, which was to be built under licence.
The RCAF acquired the Starfighter in June 1963. Two years later, it was transferred to the Central Experimental and Proving Establishment at Uplands airport in Ottawa.
On December 14, 1967, Wing Commander Robert A. White set a Canadian altitude record of 30,513 metres (100,110 feet) flying the Starfighter. As a result, White was made an Officer of the Order of Military Merit and inducted as a member of Canada's Aviation Hall of Fame in 1974. The aircraft was transferred to the Museum in June 1968.
Technical Information:
To achieve good performance with a very small wing, the thin, high-speed profile of the Starfighter could be altered for low-speed flight by drooping the leading and trailing edges of the wings. High-pressure air blew over the drooped trailing edge to maintain a smooth air flow. The aircraft was unfairly considered crash-prone, but most accidents were caused by the method of flying required and poor weather. The ejection seat was rocket-powered.
| | |
| --- | --- |
| Wing Span | 6.7 m (21 ft 11 in) |
| Length | 16.7 m (54 ft 8 in) |
| Height | 4.1 m (13 ft 6 in) |
| Weight, Empty | 6,070 kg (13,384 lb) |
| Weight, Gross | 8,159 kg (17,988 lb) |
| Cruising Speed | 835 km/h (519 mph) |
| Max Speed | 2,189 km/h (1,360 mph) |
| Rate of Climb | 18,408 m (60,396 ft) / min |
| Service Ceiling | 19,750 m (64,800 ft) |
| Range | 1,175 km (730 mi) |
| Power Plant | one General Electric J79-OEL-7 axial flow jet engine, 7,166 kg (15,800 lb), static thrust, with afterburner |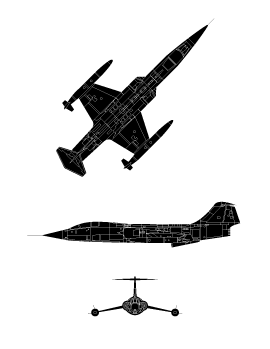 Canada Aviation and Space Museum
Manufacturer
Lockheed Aircraft Corporation
Manufacturer Location
United States
Registration Number
12700 (ARC)