Highlights:
A German biplane developed during the First World War for low-level front-line observation and ground attack
Became the first all-metal aircraft to go into production anywhere in the world (1917)
With a forward body covered with steel plates, it was almost impenetrable to ground fire (making it a respected adversary)
Its robust construction meant that although several aircraft were lost in landing, none were reported destroyed during combat
First flight was in 1917
Image Gallery:
History:
Developed for low-level, front-line observation, the Junkers J.I was the first all-metal aircraft to go into series production anywhere in the world. The completely armoured nose-capsule of 5-mm chrome-nickel sheet-steel enclosed the engine and crew compartment. Its weight, combined with the relatively heavy metal construction, resulted in a fairly slow aircraft but provided effective protection against ground-fire. Of 227 Junkers J.Is built, it is not known how many served with the German Air Force or the nature of their activity.
The Museum aircraft is the only surviving Junkers J.I. The strength of its metal structure eliminated the need for external bracing wires typical of other biplanes of the time. Although heavy, cumbersome, and slow to take off from rough ground, J.Is were immensely strong and well suited for low-level observation. Although downward-firing machine guns were planned, they were found too difficult to aim and were not used.
Current Location:
First World War Exhibition, Canada Aviation and Space Museum
Provenance:
Transfer from the Canadian War Museum
Manufactured in 1918, this J.I was sent to Canada from Dieppe on the SS Venusia in May 1919, as a war trophy. The Museum believes that the aircraft's armament consisted of one flexible mounted gun for the observer, although some accounts mention that fixed forward-firing guns were also provided on the aircraft. This Junkers J.I was assembled and put on display to the public in Toronto at the Canadian National Exhibition in August 1919. In 1939, it was transferred from Camp Borden to the Aeronautical Museum. It was later moved to the Canadian War Museum's warehouse, and was transferred to this Museum in 1969. It is the only complete Junkers J.I that exists in the world.
Technical Information:
| | |
| --- | --- |
| Wing Span | 16 m (52 ft 6 in) |
| Length | 9.1 m (29 ft 10 1/4 in) |
| Height | 3.4 m (11 ft 1 7/8 in) |
| Weight, Empty | 1,766 kg (3,893 lb) |
| Weight, Gross | 2,140 kg (4,718 lb) |
| Cruising Speed | 140 km/h (87 mph) |
| Max Speed | 155 km/h (96 mph) |
| Rate of Climb | 2,000 m (6,560 ft) / 32 min |
| Service Ceiling | Unknown |
| Range | Unknown |
| Power Plant | one Benz BzIV, 200 hp, in-line engine |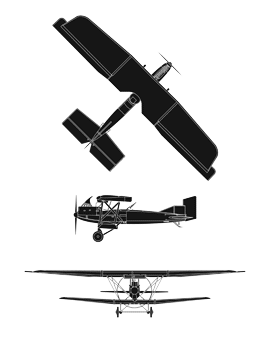 Canada Aviation and Space Museum
Manufacturer
Junkers-Fokker Werke A.G
Manufacturer Location
Germany
Registration Number
586/18