Highlights:
A German Second World War jet fighter designed by Heinkel Flugzeugwerke GmbH and produced from 1944 to 1945
Designed and built for the Luftwaffe in 90 days, as a last-ditch effort to stave off Germany's defeat
Supplemented the Messerschmitt Me 262, a more complex and expensive jet
Built mainly of wood with a single engine for fast, inexpensive production
Commonly known as "the Volksjäger," or "people's fighter"
With a BMW engine, it was among the fastest of the first-generation jet fighters
Though intended for Hitler Youth with minimal training, the few Volksjägers that briefly saw combat were flown by experienced pilots
First flight was on December 6, 1944
Image Gallery:
History:
The Heinkel He 162 jet fighter was conceived, designed, and built in 90 days as a last attempt by Germany to avoid defeat in Second World War. Intended as an inexpensive fighter, the Heinkel He 162 could be built by semi-skilled labour out of non-strategic materials. After initial aerodynamic and structural problems were solved, the German Air Force began receiving Heinkel He 162s in 1945, but there is no evidence that they saw action. Records from the period are incomplete, and it is not known exactly how many were built.
Total scheduled output of Heinkel He 162s was to be 4000 per month. Pilots supplied for this vast output were to be given glider training and assigned directly to this jet fighter. It is fortunate that this plan was never realised since the He 162 was no machine for the inexperienced. Even seasoned pilots had to use extremely smooth and delicate control movements to stay out of trouble. A rudimentary ejection seat carried the pilot past the engine air-intake on bailout.
Current Location:
Second World War Exhibition, Canada Aviation and Space Museum
Provenance:
Transfer from the Royal Canadian Air Force
This Volksjäger was assembled by Heinkel Flugzeugwerke GmbH at the Heinkel-Nord plant in Rostock-Marienehe, Germany, probably in late February or March 1945. The aircraft was captured from the Luftwaffe at Leck on May 8, 1945. Shipped to the United Kingdom in June of the same year, it was exhibited as a war trophy in Hyde Park, London during September. Stored in the United Kingdom until the following spring, it was shipped to Canada in September 1946 and, in the RCAF's possession, likely stored. It was transferred to the Canadian War Museum in 1964 and to this Museum by 1967.
Technical Information:
| | |
| --- | --- |
| Wing Span | 7.2 m (23 ft 7 1/2 in) |
| Length | 9 m (29 ft 6 1/4 in) |
| Height | 2.6 m (8 ft 6 3/4 in) |
| Weight, Empty | 1,663 kg (3,667 lb) |
| Weight, Gross | 2,490 kg (5,490 lb) |
| Cruising Speed | Unknown |
| Max Speed | 835 km/h (519 mph) |
| Rate of Climb | 1,280 m (4,200 ft) /min |
| Service Ceiling | 12,020 m (39,440 ft) |
| Range | 1,000 km (621 mi) |
| Power Plant | one BMW-109-003E-1 Sturm axial flow jet engine, 800 kg (1,764 lb) static thrust |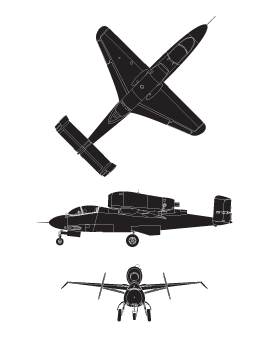 Canada Aviation and Space Museum
Manufacturer
Ernst Heinkel Flugzeugwerke GmbH
Manufacturer Location
Germany
Registration Number
120086 (GAF)