Highlights:
A two-seater, light bomber biplane, designed and built in the U.K. from 1935 to 1938
Developed from the Hawker Hart
Served as an interim replacement light bomber in the RAF prior to the Fairey Battle and Bristol Blenheim
First bomber commonly used for RAF pilot training in the mid- to late 1930s and last light bomber biplane flown by the RAF
By 1939, it was no longer used in first-line and auxiliary RAF squadrons; it was never used in great numbers in Canada
First flight was on September 12th, 1934
Image Gallery:
History:
The Hawker Hind was developed from the fast and beautiful Hawker Hart. Prior to the delivery of the new Fairey Battle and Bristol Blenheim, the Hind was an interim replacement light bomber in the RAF. Although most Hinds were two-seater bombers, some were fitted with dual controls and used for pilot training. Production ceased in 1938 after 528 were built.
Most of the freshly trained bomber pilots of the mid-to-late 1930s began squadron life flying Hawker Hinds. The last biplane light bomber flown by the RAF, the Hind had vanished from first-line and even auxiliary squadrons by 1939.
Current Location:
Reserve Hangar, Canada Aviation and Space Museum
Provenance:
Donation from the Government of Afghanistan
This aircraft was built in 1937 as a light bomber for the RAF. It was one of nineteen Hinds donated to the Royal Afghan Air Force in 1939. It served this air force in the 1940s and was then used as a training airframe (a teaching aid for mechanics and ground crews) in the 1950s.
In 1974, an interest in collecting a significant military biplane from the interwar era led the Museum to enquire whether any Hinds remained in Afghanistan. The Afghan government located this Hind in a Kabul junkyard and, after some negotiation, the country's President donated it to Canada as a means of furthering relations between the two countries.
Alfred J. Shortt, Assistant Curator, and W. Merrikin, Chief Restoration Officer, travelled to Kabul in October 1975 to disassemble the aircraft and help the Canadian Forces load it onto a transport aircraft. The Hercules arrived at Ottawa's Uplands airport in November 1975. The Hind was trucked to Rockcliffe airport to await restoration, which was undertaken by George Neal in Toronto in 1984. The work was completed in 1988 and the aircraft was returned to the Museum.
Technical Information:
| | |
| --- | --- |
| Wing Span | 11.4 m (37 ft 3 in) |
| Length | 8.9 m (29 ft 3 in) |
| Height | 3.2 m (10 ft 7 in) |
| Weight, Empty | 1,475 kg (3,250 lb) |
| Weight, Gross | 2,405 kg (5,300 lb) |
| Cruising Speed | Unknown |
| Max Speed | 300 km/h (186 mph) |
| Rate of Climb | 3,050 m (10,000 ft) / 8.4 min |
| Service Ceiling | 8,050 m (26,400 ft) |
| Range | 2.95 hours (Endurance) |
| Power Plant | one Rolls-Royce Kestrel, 640 hp,Vee engine |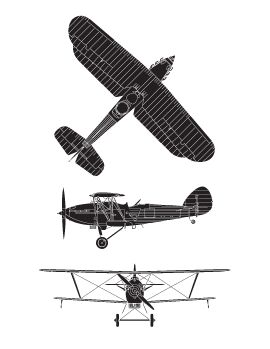 Canada Aviation and Space Museum
Manufacturer
Hawker Aircraft Ltd.
Manufacturer Location
Great Britain
Registration Number
L7180 (RAF)