Highlights:
An American Second World War monoplane primary trainer designed by Fairchild Engine and Airplane Corporation and produced from 1940 to 1944
Based on the PT-19, which replaced U.S. Army Air Forces biplane trainers
Ordered by the RCAF to replace the British Commonwealth Air Training Plan's de Havilland Tiger Moths and Fleet Finches
Modified with enclosed cockpits and improved heating systems for the Canadian climate
Made in Canada by Fleet Aircraft Limited
Twenty Canadian-built Cornells were used by the Royal Norwegian Air Force's "Little Norway" wartime bases in Ontario
Sold for civilian use postwar but became unpopular due to the upkeep required as wooden wings aged
First flight was on July 9, 1942
Image Gallery:
History:
The Fairchild Cornell was the successor to the Tiger Moth and Fleet Finch for elementary pilot training in the British Commonwealth Air Training Plan . The RCAF version, which served until 1947, was the Cornell III, manufactured by Fleet Aircraft, Fort Erie, Ontario. In late 1943 a series of wing failures occurred, requiring reinforcement of the main spar. After the war many Cornells were sold for civilian use, but the wing spar problem continued and required stringent annual inspections. This weakness greatly reduced their popularity. Canada built 1 642.
Although Cornells were also manufactured in Canada for the US Army Air Forces, none was delivered there. Most of the US Army Air Forces order was sent to the RAF under lend-lease, with the balance going to the RCAF. Twenty Canadian-built Cornells were used by the Royal Norwegian Air Force at their two wartime bases in Ontario. Some Canadian-built Cornell IIs were shipped to Africa and India to be used in training schools.
Current Location:
British Commonwealth Air Training Plan Exhibition, Canada Aviation and Space Museum
Provenance:
Transfer from the Royal Canadian Air Force
This Cornell III was manufactured by Fleet Aircraft Limited in Fort Erie, Ontario in July 1942. It was issued to the RCAF No. 4 Training Command in Regina, Saskatchewan, and served in BCATP Elementary Flying Training Schools until July 1944.
From 1944 to 1962, it was stored in various RCAF depots, mainly in Western Canada. It was displayed at Rockcliffe airport for Air Force Day in April1962. The aircraft was made part of the RCAF's historic aircraft collection at Rockcliffe airport in 1964, and was transferred to the Museum later that year.
Technical Information:
| | |
| --- | --- |
| Wing Span | 11.3 m (36 ft 11 3/16 in) |
| Length | 8.7 m (28 ft 8 in) |
| Height | 2.3 m (7 ft 7 1/2 in) |
| Weight, Empty | 917 kg (2,022 lb) |
| Weight, Gross | 1,241 kg (2,736 lb) |
| Cruising Speed | 162 km/h (101 mph) |
| Max Speed | 196 km/h (122 mph) |
| Rate of Climb | 197 m (645 ft) /min |
| Service Ceiling | 4,020 m (13,200 ft) |
| Range | 692 km (430 mi) |
| Power Plant | one Ranger 6-440-65, 200 hp, inverted in-line engine |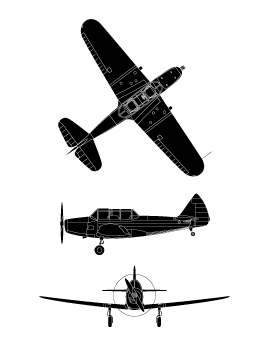 Canada Aviation and Space Museum
Manufacturer
Fleet Aircraft Ltd
Manufacturer Location
Canada
Registration Number
10738 (RCAF)