Highlights:
A single-engine, civil utility aircraft seating nine passengers and two crew, designed and built in Canada by Fairchild Aircraft Limited from 1935 to 1939
Used primarily as a bush plane by civilian operators
Known for its reliability and durability in Arctic terrain
Only twenty-four manufactured: Fairchild ceased production after signing a contract with the RCAF to manufacture the Bristol Bolingbroke coastal patrol airplane
Seven Fairchild 82As were exported to Mexico and Argentina for use as high-altitude photo and mapping airplanes
Closely related to the Fairchild FC-2W-2
First flight was on July 6, 1935
Image Gallery:
History:
The Fairchild 82A was a Canadian-designed successor to the FC-2W-2 and 71 models. It won immediate acceptance by Canadian bush operators who appreciated its good load-lifting capabilities for freight. The 82A proved to be one of the north's most reliable bush aircraft. The type was made in Canada and seven were exported to Mexico and South America. Only 24 were built once construction was phased out to make room to produce the Bristol Bolingbroke.
For bush use, some operators preferred the Fairchild 82A to the more famous Noorduyn Norseman. The last 82A in service disappeared on a flight in the Northwest Territories on June 9, 1964.
Current Location:
Reserve Hangar, Canada Aviation and Space Museum
Provenance:
Donation from Canadian Pacific Airlines
This aircraft was manufactured in 1936 by Fairchild Aircraft Limited. Sold to Starratt Airways and Transportation Limited of Hudson, Ontario in 1937, it served with the company until 1942, when it was purchased by Canadian Pacific Airlines (CPA). It flew with this airline until 1947. Ownership passed through several companies before the aircraft was sold to the CPA again in 1965. The airline presented it to the Museum in May 1967. It is one of only two Fairchild 82s existing worldwide; the other is held by the Museo Nacional de Aeronáutica in Argentina.
Technical Information:
| | |
| --- | --- |
| Wing Span | 15.5 m (51 ft) |
| Length | 11.2 m (36 ft 10 3/4 in) |
| Height | 2.8 m (9 ft 4 1/2 in) |
| Weight, Empty | 1,388 kg (3,060 lb) |
| Weight, Gross | 2,720 kg (6,000 lb) |
| Cruising Speed | 206 km/h (128 mph) |
| Max Speed | 233 km/h (145 mph) |
| Rate of Climb | 2,740 m (9,000 ft) / 10 min |
| Service Ceiling | 4,770 m (15,650 ft) |
| Range | Unknown |
| Power Plant | one Pratt & Whitney R-1340-AN-1 Wasp, 600 hp, radial engines |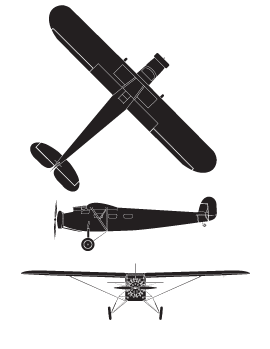 Canada Aviation and Space Museum
Manufacturer
Fairchild Aircraft Ltd.
Manufacturer Location
Canada
Registration Number
CF-AXL