Highlights:
A U.K.-designed, two-seater, twin-engine warplane intended to be agile, light, easy to manoeuvre and so fast that it did not require defensive weapons; reputed to be one of the RAF's fastest machines in the Second World War
Recognized for its versatility: used as an unarmed bomber, photo reconnaissance aircraft, night fighter and trainer during the war
Known as "the wooden wonder" and "the timber terror" due to its all-wood frame
Used primarily for operational training by the RCAF in Canada
Over 1,000 were built in Canada at the de Havilland Canada production site in Toronto; 1,032 Canadian-built Mosquitos were flown during the war
Flown by Wing Commander Russell "Russ" Bannock, a flying ace and member of No. 418 and 406 Squadrons RCAF, during the war
First flight was on November 25th, 1940 (Mosquito prototype)
Image Gallery:
History:
Early in Second World War, de Havilland applied their woodworking expertise to the development of a wooden bomber so fast that it would not need defensive armament. The result was the Mosquito, a most remarkable aircraft. The amazingly adaptable design was effective for day and night fighting, day and night bombing, anti-shipping attack, and photo reconnaissance. Canada built a total of 1 013 during the war and 100 postwar, with 205 going to Nationalist China in 1947-48.
The bomber version of the Mosquito could deliver the same bomb-load to distant targets as the four-engined Boeing B-17. Mosquitos were also used as high-speed transports by British Overseas Airways Corporation (BOAC) to maintain communication with neutral Sweden and bring back strategic items such as ball-bearings. Passengers, if any, rode in the bomb bay. Because of the glued-and-screwed wooden construction, early Mosquitoes were not suited to the tropics where exposure to high humidity and rain caused the airframe to warp and the glue to dissolve.
Current Location:
Reserve Hangar, Canada Aviation and Space Museum
Provenance:
Transfer from the Royal Canadian Air Force
Manufactured in 1944, this Mosquito, a Mk XX bomber, was built by de Havilland Canada. It was acquired by the RCAF in June 1944, and served with No. 7 Operational Training Unit at Debert, Nova Scotia. Following the war, it was placed in storage until 1964, when it was transferred to the RCAF's historic aircraft collection at Rockcliffe airport.
Technical Information:
| | |
| --- | --- |
| Wing Span | 16.5 m (54 ft 2 in) |
| Length | 12.3 m (40 ft 4 in) |
| Height | 3.7 m (12 ft 3 1/2 in) |
| Weight, Empty | 6,078 kg (13,400 lb) |
| Weight, Gross | 9,970 kg (21,980 lb) |
| Cruising Speed | 322 km/h (200 mph) |
| Max Speed | 594 km/h (369 mph) |
| Rate of Climb | 670 m (2,200 ft) /min |
| Service Ceiling | 10,520 m (34,500 ft) |
| Range | 2,301 km (1,430 mi) |
| Power Plant | two Rolls-Royce (Packard) Merlin 33, 1,480 hp, V-12 engines |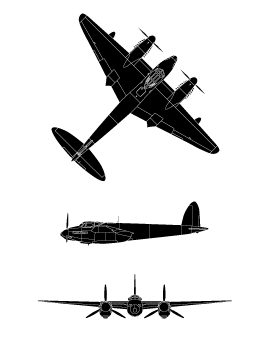 Canada Aviation and Space Museum
Manufacturer
de Havilland Aircraft of Canada Ltd.
Manufacturer Location
Canada
Registration Number
KB 336 (RAF)