Highlights:
A biplane used by the RCAF for wireless telegraphy training during the Second World War
Unique to Canada (only a small number were built), with a Canadian-built frame and a U.S.-made Menasco engine
Engines for standard Tiger Moths were manufactured in the U.K. and concerns over their continuing supply during the war led de Havilland Canada to use U.S. engines
Almost identical in appearance to the Tiger Moth, only two small mechanical features distinguish the aircraft: the engine air cooling inlet is on the right side in the Menasco Moth and on the left in the Tiger Moth, and the propellers on the two aircraft rotate in opposite directions
First flight was in October 1931
Image Gallery:
History:
In the event that U-boat attacks caused a break in supply of British-made engines to Canada, American-built Menasco engines were installed in some Canadian-built Tiger Moths. This is the major difference between the Menasco and Tiger Moths. Because this engine could drive a large generator, most Menasco Moths were used for radio training.
The Menasco engine was not as powerful as the Gypsy engine, resulting in a somewhat reduced performance. This loss of power made the Menasco Moth a less than ideal pilot-training airplane and contributed to the Menasco Moth being used almost exclusively for radio training.
Current Location:
British Commonwealth Air Training Plan Exhibition, Canada Aviation and Space Museum
Provenance:
Transfer from the Royal Canadian Air Force
This Menasco Moth was manufactured in 1941, and served as a wireless (telegraphy) trainer with No. 1 Wireless School in Winnipeg. In 1943, it was converted to a basic training aircraft and transferred to No. 5 Air Observer School in Winnipeg. After the war it was placed in storage in Manitoba until 1962, when it became part of the RCAF's historic aircraft collection at Rockcliffe airport.
Technical Information:
| | |
| --- | --- |
| Wing Span | 8.9 m (29 ft 4 in) |
| Length | 7.4 m (24 ft 2 in) |
| Height | 2.7 m (8 ft 9 1/2 in) |
| Weight, Empty | 557 kg (1,229 lb) |
| Weight, Gross | 828 kg (1,825 lb) |
| Cruising Speed | 130 km/h (80 mph) |
| Max Speed | 155 km/h (96 mph) |
| Rate of Climb | 183 m (600 ft) /min |
| Service Ceiling | 3,660 m (12,000 ft) |
| Range | 322 km (200 mi) |
| Power Plant | one Menasco D.4 Super Pirate, 125 hp, inverted in-line engine |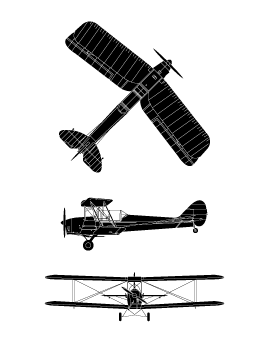 Canada Aviation and Space Museum
Manufacturer
de Havilland Aircraft of Canada Ltd
Manufacturer Location
Canada
Registration Number
4861 (RCAF)