Highlights:
A sleek, fast, agile and reliable U.K.-designed jet fighter: one of de Havilland's most successful designs
Developed for the RAF during the Second World War (though not put in service until after the war)
First jet fighter aircraft to enter the RCAF (1948); also flew with air forces from over fifteen countries
First aircraft to introduce Canadian fighter pilots to jet flying, cockpit pressurization and tricycle landing gear
Flown by the Blue Devils, the aerobatic team of No. 410 "Cougar" Squadron, performing across North America between 1949 and 1951
A derivative, the Sea Vampire, was the first jet aircraft to fly from an aircraft carrier
Made aviation history in 1948, when the Vampire 3 became the first jet fighter to fly across the Atlantic (in several stages)
First flight was on September 20th, 1943 (prototype)
Image Gallery:
History:
Production of the Vampire started just too late for Second World War. This very successful design was produced in several versions and flew with the air forces of more than 15 countries. In 1948 it was the first Jet fighter to enter the Royal Canadian Air Force. Here, as in other air forces, it introduced fighter pilots not only to jet flying, but also to cockpit pressurization and the tricycle landing gear. A simple rugged design, the last Vampires were not phased out of the Swiss Air Force until the late 1980s.
In developing the Vampire, de Havilland applied its expertise in wood construction to manufacture a fuselage of the same type of plywood/balsa wood sandwich used in the Mosquito. The Vampire's twin-boom configuration enabled the jet tail pipe to remain short in order to extract as much thrust as possible from the somewhat low-powered engines of the day. The prototype sea Vampire was the first jet aircraft to fly from an aircraft carrier.
Current Location:
Jet Age Exhibition, Canada Aviation and Space Museum
Provenance:
Transfer from the Royal Canadian Air Force
Manufactured in 1948, the Museum's Vampire 3 served with No. 1 Fighter Operational Training Unit at St. Hubert, Quebec until 1949, with No. 421 Squadron at Chatham, New Brunswick until November, 1953 and later with No. 442 City of Vancouver Squadron, before being placed in storage in 1956. It was transferred to the RCAF's historic aircraft collection at Rockcliffe airport in 1964. The Museum also holds the RCAF's sole Vampire I.
Technical Information:
| | |
| --- | --- |
| Wing Span | 12.2 m (40 ft) |
| Length | 9.4 m (30 ft 9 in) |
| Height | 2.7 m (8 ft 10 in) |
| Weight, Empty | 3,235 kg (7,134 lb) |
| Weight, Gross | 5,430 kg (11,970 lb) |
| Cruising Speed | Unknown |
| Max Speed | 855 km/h (530 mph) |
| Rate of Climb | 1,325 m (4,350 ft) /min |
| Service Ceiling | 13,260 m (43,500 ft) |
| Range | 1,175 km (730 mi) |
| Power Plant | one de Havilland Goblin 2, centrifugal flow turbojet engine, 1,405 kg (3,100 lb) static thrust |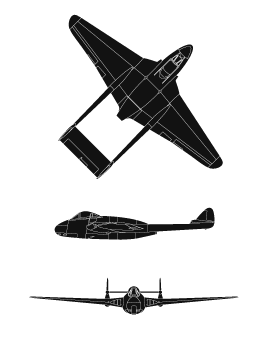 Canada Aviation and Space Museum
Manufacturer
English Electric Company Ltd.
Manufacturer Location
Great Britain
Registration Number
17074 (RCAF)