Highlights:
A three-seater monoplane designed and developed in the U.K. between 1929 and 1933
Known for its fuel economy, which made it a popular choice for attempts to break long-distance records
Used by pioneering aviators Hebert John Louis "Bert" Hinkler, James Allan "Jim" Mollison, Amy Johnson and Nevill Vintcent to perform record-breaking flights in the 1930s
Designed with an inverted engine (unlike previous Moths) to increase the pilot's visibility over the nose and to reduce the amount of oil blown onto the windscreen
First flight was in September 1929
Image Gallery:
History:
The D.H. 80 and 80A were developed as cabin monoplanes to provide more comfort than was possible in open cockpits with heavy clothing. Popular with the general flying public, Puss Moths were bought by private owners and commercial operators alike. Possessing spectacular fuel economy, several were used for long-distance record attempts. A total of nine Puss Moths were imported into Canada and and a further 25 assembled in Toronto. The RCAF acquired 13 of these for training and transportion duties.
Australian H.J. "Bert" Hinkler purchased a Puss Moth in 1931 and flew solo from Toronto to England via Brazil, Africa, and Europe. Unlike previous Moths, the Puss Moth had its D.H. Gypsy engine inverted, with the cylinders pointing down to increase the pilot's visibility over the nose and to reduce, it is suspected, the amount of oil blown onto the windscreen. The wings could be folded for storage in a garage, or towing down a road. The undercarriage struts could be rotated 90 degrees, slowing the aircraft and steepening the glide for landing in small areas.
Current Location:
General Aviation Exhibition, Canada Aviation and Space Museum
Provenance:
Purchase
This Puss Moth was manufactured in England in 1931 and transferred to a U.S. naval attaché in London that same year. It served with the RAF in the Second World War, then flew with various U.K. civilian operators before RCAF Chaplain Father John MacGillivray brought it to Canada in 1969.
MacGillivray arranged for this aircraft to be registered with the letters CF-PEI as a tribute to the first Puss Moth to have been stationed on Prince Edward Island, which had been bought and flown by aviation pioneer Mrs. Louise Jenkins in the 1930s. MacGillivray operated CF-PEI in Prince Edward Island until 1976, when he retired from the RCAF, and sold the aircraft to the Museum. When the Museum acquired it, this Puss Moth was one of eight known to exist worldwide and the only one licensed and flying in Canada.
Technical Information:
| | |
| --- | --- |
| Wing Span | 11.2 m (36 ft 9 in) |
| Length | 7.6 m (25 ft) |
| Height | 2.1 m (6 ft 10 in) |
| Weight, Empty | 574 kg (1,265 lb) |
| Weight, Gross | 930 kg (2,050 lb) |
| Cruising Speed | 174 km/h (108 mph) |
| Max Speed | 152 km/h (95 mph) |
| Rate of Climb | 198 m (650 ft) /min |
| Service Ceiling | 5,180 m (17,000 ft) |
| Range | 692 km (430 mi) |
| Power Plant | one de Havilland D.H. Gipsy Major, 130 hp, inverted in-line, 4-cylinder engine |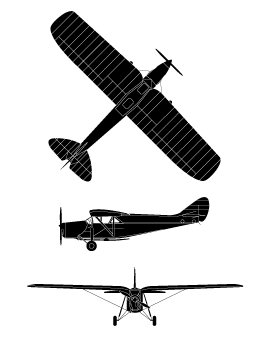 Canada Aviation and Space Museum
Manufacturer
de Havilland Aircraft Ltd.
Manufacturer Location
Great Britain
Registration Number
CF-PEI