Highlights:
Developed in 1975 as a commercial airliner with short-take-off-and-landing (STOL) capabilities (meaning it requires minimal space to take off and touch down on land, water or snow); de Havilland Canada's Beaver, Otter, Caribou, Buffalo and Twin Otter share this capability
Designed to meet noise restrictions introduced in the 1970s, it is a very quiet aircraft, despite its four turbo-prop engines
The 1970s oil crisis and the 1981 recession significantly affected its commercial success; in 1988, Boeing acquired de Havilland Canada and production ceased at 113 aircraft
Shares several similarities with the DHC Twin Otter: both are equipped with a Pratt & Whitney Canada PT6 engine; both were intended for use in the 1970s Airtransit service, aimed at linking city cores (although only the former played a part, as the service was short-lived)
First flight was on March 27th, 1975
Image Gallery:
History:
The Dash 7 was the result of many years of research in short-take-off-and-landing technology by de Havilland Canada. It was an excellent airplane, quiet and efficient, but it had the misfortune to debut in the late 1970s between the oil crisis and the 1981 recession when few operators were purchasing aircraft. Nevertheless, its good qualities ensured that 105 Dash 7s were built and sold all over the world. They were found flying in places as dissimilar as Norway and the United Arab Emirates.
The Canadian Armed Forces operated two Dash 7s, redesignated CC-132 in 1979, for transport duties. They were retired in 1986–87. De Havilland later developed the Dash 7 Ranger reconnaissance version which featured special crew accommodations and a wide variety of electronic equipment.
Current Location:
Reserve Hangar, Canada Aviation and Space Museum
Provenance:
Donation from de Havilland Canada
Built in 1975, this aircraft is the prototype, or first, Dash 7 to be built. De Havilland Canada used this aircraft for thirteen years as an experimental, demonstration and corporate flying aircraft, donating it to the Museum in 1988.
On October 26, 1988, pilots Ted McLaughlin and Dick Hutton, along with passenger Robert Fowler, flew the aircraft to Rockcliffe airport, on its final flight. McLaughlin was, at the time, de Havilland Canada's chief of training, while co-pilot Hutton was the company's chief liaison pilot. Fowler, a member of Canada's Aviation Hall of Fame, was a retired de Havilland Canada test pilot who had been the first to fly the Museum's Dash 7.
Technical Information:
| | |
| --- | --- |
| Wing Span | 28.4 m (93 ft) |
| Length | 24.6 m (80 ft 8 in) |
| Height | 5.7 m (18 ft 7 in) |
| Weight, Empty | 12,405 kg (27,350 lb) |
| Weight, Gross | 19,955 kg (44,000 lb) |
| Cruising Speed | 428 km/h (266 mph) |
| Max Speed | Unknown |
| Rate of Climb | 366 m (1,200 ft) /min |
| Service Ceiling | 6,770 m (22,200 ft) |
| Range | 2,295 km (1,425 mi) |
| Power Plant | four Pratt & Whitney Canada PT6A-50, 1,120 shp, turboprop engines |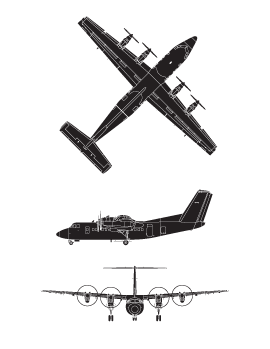 Canada Aviation and Space Museum
Manufacturer
de Havilland Aircraft of Canada Ltd.
Manufacturer Location
Canada
Registration Number
C-GNBX