Highlights:
Developed in 1965 as a larger and more powerful version of its predecessor, the single-engine DHC-3 Otter ("twin" refers to its two engines)
Used for inter-city commuting and bush flying
One of several de Havilland Canada aircraft named after North American wildlife
A short-take-off-and-landing (STOL) aircraft (requires minimal space to take off and touch down on land, water or snow), along with de Havilland Canada's Beaver, Otter, Caribou, Buffalo and Dash 7; its versatility proved very useful for search-and-rescue operations in Arctic regions
Used by a Canadian civilian aircrew in a 2001 rescue mission to Antarctica that made aviation history
First flight was on May 20th, 1965
Image Gallery:
History:
The Twin Otter, a twin-engine, modified and enlarged version of the Otter, was a successful attempt to produce a commuter airliner with parts in common with the Otter. As with all good Canadian utility aircraft designs, Twin Otters can be fitted with wheels, skis or floats. Though designed and used as intercity commuter or feeder liners, they are also operated as bush airplanes in deserts, mountains, and the Arctic, or anywhere where rugged reliability and short-take-off-and-landing capability are required.
In the Arctic Twin Otters are sometimes flown on "tundra tires" - huge, low-pressure balloon-tires that can operate on and off soft, boggy ground.
Current Location:
Reserve Hangar, Canada Aviation and Space Museum
Provenance:
Donation from de Havilland Canada
Built in 1964, this aircraft is the prototype, or first, Twin Otter to be built. It is one of three de Havilland Canada prototypes in the Museum's collection (the others are the Beaver and the Dash 7). The black X on the Twin Otter's fuselage stands for "experimental," meaning that the aircraft was used only for testing and flight demonstrations. The aircraft was donated to the Museum by de Havilland Canada in 1981.
Technical Information:
| | |
| --- | --- |
| Wing Span | 19.8 m (65 ft) |
| Length | 15.1 m (49 ft 6 in) |
| Height | 5.7 m (18 ft 7 in) |
| Weight, Empty | 2,654 kg (5,850 lb) |
| Weight, Gross | 4,763 kg (10,500 lb) |
| Cruising Speed | 248 km/h (154 mph) |
| Max Speed | 296 km/h (184 mph) |
| Rate of Climb | 503 m (1,650 ft) /min |
| Service Ceiling | 8,230 m (27,000 ft) |
| Range | 1,427 km (887 mi) |
| Power Plant | two Pratt & Whitney Canada PT6A-20, 550 shp, turboprop engines |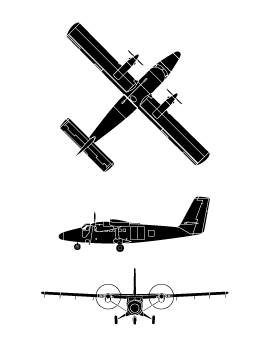 Canada Aviation and Space Museum
Manufacturer
de Havilland Aircraft of Canada Ltd.
Manufacturer Location
Canada
Registration Number
CF-DHC-X