Highlights:
First all-metal bush plane designed and built in Canada; still used in many countries around the world
One of several de Havilland Canada aircraft named after North American wildlife
Outnumbers, to date, any other Canadian aircraft: 1 692 Beavers were manufactured between 1947 and 1968
A short-take-off-and-landing (STOL) aircraft (requires minimal space to take off and touch down on land, water or snow), along with de Havilland Canada's Otter, Caribou, Buffalo, Twin Otter and Dash 7
First flight was on August 16th, 1947
Image Gallery:
History:
The Beaver was designed and built in response to the demands of Canadian bush operators. With its all-metal construction, high-lift wing, and flap configuration, the Beaver was a robust aircraft with excellent short take-off-and-landing capability even with heavy loads. In addition to its success in Canada, the Beaver found acceptance in as many as 60 other countries all over the world. Although not ordered by the RCAF, some 980 served with distinction in the US Army and US Air Force. About 1600 were made.
The Beaver was such a success that more were built than any other aircraft designed and manufactured in Canada. In 1951 it won both the US Air Force and US Army competitions for a utility aircraft. Many were used in Korea, where it was known as the "general's jeep".
Current Location:
Bush Flying Exhibition, Canada Aviation and Space Museum
Provenance:
Purchase
Built in 1947, this aircraft is the prototype, or first, Beaver to be built. Used as a bush plane in Western Canada for thirty-two years, it was purchased by the Museum from Norcanair in 1980. Its registration number, CF-FHB, incorporates the initials of Frederick Howard Buller, one of the Beaver's two designers. Buller was a naval architect turned aeronautical engineer and is a member of Canada's Aviation Hall of Fame.
Remarkably, during its final flight, between Lac la Ronge and Rockcliffe airport, this aircraft crossed paths in Sault Ste. Marie with the second Beaver built, CF-OBS. Russ Bannock, who flew CF-FHB for a portion of its last flight, had also been its test pilot. The preservation of Canada's first Beaver has been made possible by donations from the Molson Foundation and from de Havilland Canada.
Technical Information:
| | |
| --- | --- |
| Wing Span | 14.6 m (48 ft) |
| Length | 9.2 m (30 ft 4 in) |
| Height | 2.7 m (9 ft) |
| Weight, Empty | 1,293 kg (2,850 lb) |
| Weight, Gross | 2,313 kg (5,100 lb) |
| Cruising Speed | 209 km/h (130 mph) |
| Max Speed | 258 km/h (160 mph) |
| Rate of Climb | 311 m (1,020 ft) /min |
| Service Ceiling | 5,490 m (18,000 ft) |
| Range | 756 km (470 mi) |
| Power Plant | one Pratt & Whitney R-985 AN-14B Wasp Jr., 450 hp, radial engine |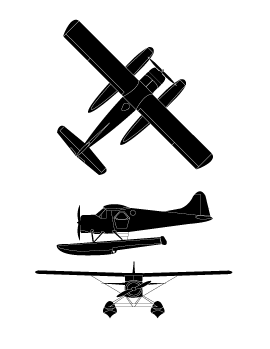 Canada Aviation and Space Museum
Manufacturer
de Havilland Aircraft of Canada Ltd.
Manufacturer Location
Canada
Registration Number
CF-FHB