Highlights:
A Second World War U.S. single-engine, single-seat fighter and fighter bomber aircraft manufactured by Curtiss-Wright Corporation from 1939 to 1944
Significant due to its availability in large quantities early in the Second World War
Kittyhawks served 28 Allied air forces in North Africa, the Pacific, the Middle East, Southeast Asia, the Soviet Union, Alaska and Italy
The RCAF operated three Kittyhawk squadrons in Alaska and the Aleutians
RAF No. 112 squadron in North Africa was famous for its "Shark Mouth" markings
First flight was in October 1938 (XP-40)
Image Gallery:
History:
Despite an unspectacular overall performance and a lack of power at altitude, the P-40 was the most important American fighter in the early years of Second World War because it was available in large quantities. P-40s were flown on almost all battle fronts and were supplied to many countries, including Canada, Britain, Australia, New Zealand, China, and Russia. The RCAF operated seven squadrons of Kittyhawks in Canada and Alaska. Introduced in 1941, the RCAF retired them all by 1946. A total of 13,750 were built.
Despite its mediocre performance the P-40 was tough and reliable, attributes essential for operations in the relatively primitive conditions and harsh climate of Alaska and the Aleutians. In an attempt to increase performance, especially at high altitude, two versions appeared with Rolls-Royce Merlin engines.
The best known P-40 unit was the American Volunteer Group in China, the "Flying Tigers". The famous shark-mouth decoration on their aircraft actually originated with the RAF in the Western Desert.
Current Location:
Reserve Hangar, Canada Aviation and Space Museum
Provenance:
Transfer from the Royal Canadian Air Force
The Museum's Kittyhawk was manufactured by the Curtiss-Wright Corporation in 1942 for the RAF, but was diverted to the RCAF on March 23, 1942, on loan from the RAF. It was issued to 132 Squadron, forming at Rockcliffe Airport, and was then moved to British Columbia, where it served as a trainer successively at Sea Island, Patricia Bay, Tofino, and Boundary Bay until 1943. The aircraft then went to No. 3 Training Command at Montreal in January 1944, and to No. 2 Training Command at Winnipeg in June 1945. It was then stored at Vulcan, Alberta, until it was brought to Rockcliffe Airport in 1964, when it was transferred by the RCAF to the Museum and placed on display.
Technical Information:
| | |
| --- | --- |
| Wing Span | 11.4 m (37 ft 3 1/2 in) |
| Length | 9.7m (31 ft 8 1/2 in) |
| Height | 3.3 m (10 ft 8 in) |
| Weight, Empty | 2,686 kg (5,992 lb) |
| Weight, Gross | 3,862 kg (8,515 lb) |
| Cruising Speed | 496 km/h (308 mph) |
| Max Speed | 563 km/h (350 mph) |
| Rate of Climb | 4,570 m (15,000 ft) / 6.3 min |
| Service Ceiling | 8,870 m (29,100 ft) |
| Range | 1,152 km (716 mi) |
| Power Plant | one Allison V-1710-39, 1,150 hp, V-12 engine |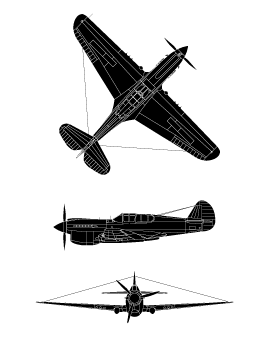 Canada Aviation and Space Museum
Manufacturer
Curtiss-Wright Corporation
Manufacturer Location
United States
Registration Number
1076 (RCAF)