Highlights:
Used as a training aircraft during the First World War
Favoured by barnstormers performing stunts and used for recreation after the war
Given the name "Canuck" to distinguish it from its U.S. counterpart, the American Curtiss JN-4
Achieved more "firsts" than any other Canadian aircraft, including first aircraft to cross the Canadian Rockies; first aircraft to be mass-produced in Canada; and first to deliver air mail (from Montreal to Toronto, June 24, 1918)
First flight was in January 1917
Image Gallery:
History:
The JN-4 (Can) Canuck was a Canadian modification of the Curtiss JN-3 trainer, developed to meet Royal Flying Corps specifications. It was the first aircraft to go into mass production in Canada; about 1 210 were built by Canadian Aeroplanes Ltd in Toronto. Large numbers were used for military training both in Canada and the United States. Many were subsequently sold as war surplus. Because of its availability and low price, the JN-4 (Can) was the preferred mount of many barnstormers in the decade after the war.
The Canuck had ailerons in both the top and bottom wings which provided better lateral control than would have been available with upper-wing ailerons only. The JN-4 (Can) recorded more Canadian firsts than any other aircraft: for example, first mass-produced aircraft, first exported in large quantities, first military flying, first ski flying, first airmail, first aerial survey, and first flight across the Canadian Rockies.
Current Location:
First World War Exhibition, Canada Aviation and Space Museum
Provenance:
Purchase
Manufactured in 1918, this JN-4 was one of 680 machines supplied to the U.S. Air Service by Canadian Aeroplanes Limited. After the First World War, it entered civilian service until it was purchased in 1926 by Edward Faulkner of Honoeye Falls, New York. In 1932, Faulkner decided to store the aircraft, as he rarely used it. He hung it from the roof of his barn, where it remained for over thirty years.
The Museum purchased the aircraft in 1962, and it was put on public display for the first time during Air Force Day in June of the same year. Between 1962 and 1964, the Museum restored the aircraft to represent a typical JN-4 "Canuck" used in the First World War. It is painted as an aircraft from No. 85 Canadian Training Squadron, with the squadron's insignia - a distinctive black cat - on the fuselage.
Technical Information:
| | |
| --- | --- |
| Wing Span | 13.3 m (43 ft 7 3/8 in) |
| Length | 8.3 m (27 ft 2 1/2 in) |
| Height | 3 m (9 ft 11 in) |
| Weight, Empty | 630 kg (1,390 lb) |
| Weight, Gross | 875 kg (1,930 lb) |
| Cruising Speed: | 97 km/h (60 mph) |
| Max Speed | 119 km/h (74 mph) |
| Rate of Climb | 762 m (2,500 ft) / 10 min |
| Service Ceiling | 3,350 m (11,000 ft) |
| Range | 250 km (155 mi) |
| Power Plant | one Curtiss OX-5, 90 hp, V-8 engine |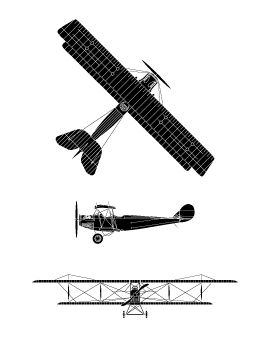 Canada Aviation and Space Museum
Manufacturer
Canadian Aeroplanes Ltd.
Manufacturer Location
Canada
Registration Number
C227 (RFC)