Highlights:
A four-engine heavy bomber designed by Consolidated Aircraft Corporation / Consolidated Vultee Aircraft Corporation in the U.S. and produced from 1940 to 1945
Also used for maritime patrol by the U.S. Navy, RAF, and the RCAF during the Second World War
Developed quickly, going from design to first flight all during 1939
Ideal as a bomber and maritime patrol aircraft due to its long-range and load capabilities
Christened "the Liberator" by the RAF, the name was adopted by the Americans
RCAF operated four Liberator anti-submarine squadrons, one heavy transport squadron and one bomber squadron during the Second World War
American actor Jimmy Stewart commanded a Liberator squadron in the U.S. Army Air Forces
First flight was on December 29, 1939 (XB-24)
Image Gallery:
History:
The Liberator was designed as a strategic bomber to augment the already existing Boeing B-17. Large numbers were produced and they flew effectively in all Second World War theatres. Though more vulnerable than the B-17, the Liberator had excellent load and long-range capabilities, which made it ideal for ocean patrol and anti-submarine duties. Those without armament were used as transports. A single-tailed patrol bomber version flew with the US Navy during the war.
The Liberator, with its long range, could provide convoy protection in mid-Atlantic where other land-based aircraft were not able to operate. This capability was instrumental in turning the tide against the U-Boats in the latter half of Second World War. Transport versions were operated from Ottawa, carrying mail, passengers, and VIPs between Canada and Europe.
Current Location:
Reserve Hangar, Canada Aviation and Space Museum
Provenance:
Exchange with Indian Air Force
This Liberator was manufactured at the Ford Motor Company plant at Willow Run, Michigan and delivered to the RAF in 1944 on the Lend-Lease program. It was abandoned in India after the Second World War. The Indian Air Force (IAF) refurbished it in 1949, using it until 1968.
The Liberator came to Canada as a result of a gift the RCAF had made to the IAF. In 1967, the IAF's Chief of Air Staff visited the Museum at Rockcliffe airport. He was so enthusiastic about the Westland Lysander III display that when another Lysander became available, a high-ranking Canadian officer sent the Rockcliffe airport Lysander III to India as a gift. In return, the IAF's Chief of Air Staff arranged that this Liberator be given to Canada.
A Canadian crew ferried the aircraft from New Delhi to Canada. The journey took sixty-nine flying hours and covered a distance of 16,900 kilometres (the longest ferry flight of any Museum aircraft), arriving in Canada in June 1968. No. 6 Repair Depot RCAF at Trenton, Ontario subsequently refinished it as an RCAF Eastern Air Command anti-submarine aircraft.
Technical Information:
| | |
| --- | --- |
| Wing Span | 33.5 m (110 ft) |
| Length | 20.5 m (67 ft 2 in) |
| Height | 5.5 m (18 ft) |
| Weight, Empty | 16,555 kg (36,500 lb) |
| Weight, Gross | 29,252 kg (64,500 lb) |
| Cruising Speed: | 346 km/h (215 mph) |
| Max Speed | 483 km/h (300 mph) |
| Rate of Climb | 6,100 m (20,000 ft) / 25 min |
| Service Ceiling | 8,530 m (28,000 ft) |
| Range | 3,380 km (2,100 mi) |
| Power Plant | four Pratt & Whitney R-1830-65 Twin Wasp, 1,200 hp, radial engines |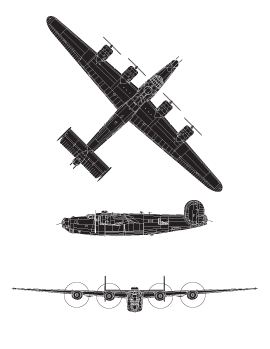 Canada Aviation and Space Museum
Manufacturer
Ford Motor Company
Manufacturer Location
United States
Registration Number
11130 (ARC)