Highlights:
A Canadian-built, two-seater jet trainer built under license by Canadair Limited from 1952 to 1959
A modified version of the U.S.-designed Lockheed T-33, fitted with a Rolls-Royce Nene engine
Known as one of the best jet trainers ever; in the 1950s, became the RCAF's first jet trainer
Flown for fifty years in Canada as a trainer and in communications, target towing and enemy aircraft simulation roles
Canadian T-33s were supplied to Bolivia, France, Greece, Turkey and Portugal
Used as RCAF's solo aerobatic aircraft and known as the Red Knight
First flight was in March 1948 (TP-80C)
Image Gallery:
History:
The Silver Star is a two-seat version of the Lockheed P-80, the first operational American jet fighter. The RCAF selected the Silver Star as its first jet trainer, but had the design modified to accommodate a more powerful British engine. After the first Silver Star was delivered by Lockheed, production on what was to total 656 aircraft began at Canadair Ltd. in Montreal. Besides providing excellent service to the RCAF, Silver Stars were also supplied to Bolivia, France, Greece, Turkey, and Portugal.
The name "Silver Star" never caught on in Canada. Designated T-33 in the United States, the aircraft became known universally as the "T-Bird". The Canadian Forces retired its last CT-133s in the spring of 2002.
In 1948 the RCAF chose the North American-designed F-86 Sabre as its next fighter, to fulfil its NATO commitment in Europe. These Sabres were built by Canadair in Montreal. Early Sabres were similar to their American counterparts, but the Sabre 5 and Sabre 6 had Canadian-designed-and-built Orenda engines. The Sabre 6, with its extra power and slatted wing, was the finest version of the airplane built by Canadair. Canadian Sabres served in Canada and with Canadians overseas, as well as in the air forces of Britain, West Germany, South Africa, Columbia and the United States.
Clad in metallic-gold paint, the Sabre 6s of the Golden Hawks were an impressive sight. The aerobatic team used the superb handling characteristics and slatted wings of this aircraft to great advantage. The Sabre 6 could execute a 360-degree turn within the runway boundaries of an average airfield, a feat not achievable by most other jets of the period.
Current Location:
Jet Age Exhibition, Canada Aviation and Space Museum
Provenance:
Transfer from the Royal Canadian Air Force
This Silver Star was manufactured in February 1957 by Canadair Limited in Montreal, Quebec and was accepted by the RCAF in March that same year. For the next seven years the aircraft served in training roles at RCAF stations at Macdonald and Portage la Prairie, Manitoba; Edmonton and Lincoln Park, Alberta; and Saskatoon, Saskatchewan.
As of February 1961, when the aircraft was painted red, it was also flown as the Red Knight, the RCAF's solo aerobatic aircraft. The Silver Star was transferred to the Museum in May 1964. Its Red Knight markings have been retained.
Technical Information:
| | |
| --- | --- |
| Wing Span | 13 m (42 ft 7 in) |
| Length | 11.5 m (37 ft 8 1/2 in) |
| Height | 3.6 m (11 ft 8 in) |
| Weight, Empty | 3,828 kg (8,440 lb) |
| Weight, Gross | 7,620 kg (16,800 lb) |
| Cruising Speed | 306 km/h (190 mph) |
| Max Speed | 917 km/h (570 mph) |
| Rate of Climb | 6,095 m (20,000 ft) / 8 min |
| Service Ceiling | 16,460 m (54,000 ft) |
| Range | 14,330 m (47,000 ft) |
| Power Plant | one Rolls-Royce Nene 10, 2,313 kg (5,100 lb) static thrust, centrifugal flow jet engine |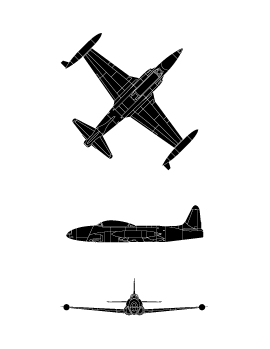 Canada Aviation and Space Museum
Manufacturer
Canadair Ltd.
Manufacturer Location
Canada
Registration Number
21574 (RCAF)