Highlights:
A single-engine jet fighter designed by North American Aviation Incorporated and produced in Canada by Canadair Limited between 1950 and 1958
Named F-86 in the U.S
Became the dominant Western fighter aircraft in the early 1950s and was used by the U.S. Air Force in Korea against MiG-15s
Served with the RCAF in Europe in its commitment to NATO
Reached supersonic speeds in dives - first achieved in Canada by test pilot Al Lilly, in 1950 when he broke the sound barrier
Mark 5 and 6 aircraft (built only in Canada) were improved with powerful Canadian-designed Orenda engines
Flown by the RCAF's Golden Hawks aerobatic team from 1959 to 1964
First flight was on October 1st, 1947
Image Gallery:
History:
In 1948 the RCAF chose the North American-designed F-86 Sabre as its next fighter, to fulfil its NATO commitment in Europe. These Sabres were built by Canadair in Montreal. Early Sabres were similar to their American counterparts, but the Sabre 5 and Sabre 6 had Canadian-designed-and-built Orenda engines. The Sabre 6, with its extra power and slatted wing, was the finest version of the airplane built by Canadair. Canadian Sabres served in Canada and with Canadians overseas, as well as in the air forces of Britain, West Germany, South Africa, Columbia and the United States.
In the early 1950s, Sabre 2s serving with the RCAF were the only swept-wing fighters in NATO. As a day fighter, the Sabre 6 was unsurpassed in Europe. The first two squadrons of Sabres were transported to Europe on aircraft carrier HMCS Magnificent. Sabres were subsequently flown across the Atlantic to Germany from St. Hubert, Quebec, shepherded by a North Star, via Goose Bay (Labrador), Greenland, Iceland and Kinloss (Scotland).
Current Location:
Jet Age Exhibition, Canada Aviation and Space Museum
Provenance:
Transfer from the Royal Canadian Air Force
This Sabre 6 was manufactured by Canadair Limited in Montreal in February 1955. It was test flown and accepted by the RCAF in March of the same year.
On July 4, 1955 it was delivered to No. 444 Squadron at Baden-Soellingen, West Germany, to be used to help defend Western Europe. It was transferred to a Technical Services Detachment at Scottish Aviation Limited, in Prestwick, Scotland, most likely for maintenance, in September 1958. The Sabre remained in Scotland until fall 1959, when it was sent to the Zweibrucken air base in West Germany. Stored there until 1961, it was sent to Scottish Aviation in August. By November, it was at an RCAF Depot in London, Ontario.
Moved to No. 6 Repair Depot in Trenton, Ontario in January 1964, the aircraft was transferred from the RCAF to the Museum's collection in April that year. It has been finished in the markings of No. 444 "Cobra" Squadron.
Technical Information:
| | |
| --- | --- |
| Wing Span | 11.6 m (37 ft 11 1/2 in) |
| Length | 11.4 m (37 ft 6 in) |
| Height | 4.5 m (14 ft 9 in) |
| Weight, Empty | 4,816 kg (10,618 lb) |
| Weight, Gross | 6,628 kg (14,613 lb) |
| Cruising Speed | 489 mph (787 km/h) |
| Max Speed | 975 km/h (606 mph) |
| Rate of Climb | 10,668 m (35,000 ft) / 4 min 42 sec |
| Combat Ceiling | 16,460 m (54,000 ft) |
| Range | 584 km (363 mi) |
| Power Plant | one Avro Canada Orenda 14, 3,300 kg (7,275 lb) static thrust turbojet |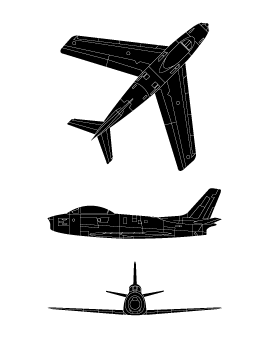 Canada Aviation and Space Museum
Manufacturer
Canadair Ltd.
Manufacturer Location
Canada
Registration Number
23455 (RCAF)