Highlights:
A Canadian maritime patrol and reconnaissance aircraft designed and manufactured by Canadair Limited and produced from 1957 to 1960
A redesign of the Bristol Britannia airliner, with completely new fuselage and new engines, intended for RCAF use
Replaced the Avro Lancaster and Lockheed Neptune in RCAF service
Carried very sophisticated submarine-detection equipment, including a 70 million-candlepower searchlight, which could illuminate a periscope up to 2.8 kilometres away
Largest aircraft built in Canada at time of production
With four bunks and a galley, accommodated fifteen crew for flights over twenty-four-hours
A transport version, the CL-44, was developed by Canadair for freight carriers and the RCAF
First flight was on March 28th, 1957
Image Gallery:
History:
The Argus was a radical redesign of the Bristol Britannia featuring a new, unpressurized fuselage and powerful piston engines. The redesign increased the low-altitude range and provided space in the aircraft for weapons and electronic equipment. Thirteen Mk.1s were built. The remaining 20 were Mk.2s, with upgraded electronics and a smaller radome (radar dome). Argus aircraft operated successfully over Canada's ocean boundaries. They were retired from the Canadian Armed Forces(CAF) in 1982.
The Argus was equipped with a powerful radar, underwater listening devices, electronic countermeasures equipment, and a magnetic anomaly detector, which at low altitude could detect deformations in the earth's magnetic field caused by metal objects as small as a boat's engine. For night visual identification, a remote-controlled 70-million candlepower searchlight was located on the wing. Equipped with four bunks and a galley, the Argus could accommodate two crews for 24-hour-plus flights. In its early years, the Argus was undoubtedly the finest anti-submarine patrol bomber in the world. Maximum range was 8,190 km (5,089 mi).
Current Location:
Reserve Hangar, Canada Aviation and Space Museum
Provenance:
Transfer from the Canadian Armed Forces
This Argus was the last one built. It was manufactured by Canadair Limited in Montreal, Quebec in 1960. It operated with No. 405 Squadron RCAF in Greenwood, Nova Scotia from 1960 to 1978, when it was transferred to Canadian Forces Base Summerside in Prince Edward Island. It served there until 1982 and was then retired and transferred to the Museum in a May 17, 1982 ceremony. The Argus is the largest aircraft in the collection and the Museum's hangar doors were designed to accommodate it.
Technical Information:
| | |
| --- | --- |
| Wing Span | 43.4 m (142 ft 3 1/2 in) |
| Length | 39.1 m (128 ft 3 in) |
| Height | 11.5 m (37 ft 8 1/2 in) |
| Weight, Empty | 36,735 kg (81,000 lb) |
| Weight, Gross | 67,120 kg (148,000 lb) |
| Cruising Speed | 333 km/h (207 mph) |
| Max Speed | 464 km/h (288 mph) |
| Rate of Climb | 274 m (900 ft) /min |
| Service Ceiling | 7,380 m (24,200 ft) |
| Range | 8,189 km (5,089 mi) |
| Power Plant | four Wright R-3350 TC981 EA-1 Turbo Compound, 3,700 hp, radial engines |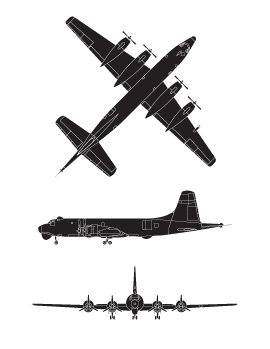 Canada Aviation and Space Museum
Manufacturer
Canadair Ltd.
Manufacturer Location
Canada
Registration Number
10742 (CAF)