Highlights:
A Canadian experimental twin-engine aircraft designed and manufactured by Canadair Limited between 1964 and 1972
Its tilt-wing permitted vertical and short-take-off-and-landing (V/STOL)
Produced as part of a 1950s and 1960s wave of interest in "convertiplanes" (aircraft with helicopter and airplane capabilities)
Its flight control system was designed by Karlis Irbitis, a brilliant Latvian engineer who came to Canada in 1948
Although four aircraft were built and three flight tested, production did not ensue: the market was not ready and the aircraft's complex technology required further development
Convertiplanes only entered service in the first decade of this century
First flight was on May 7th, 1965
Image Gallery:
History:
The CL-84's experimental "tilt-wing" design was an attempt to produce an aircraft that would combine vertical take-off-and-landing with a low-speed, fixed-wing capability. Canadair broke new ground with this design. Four CL-84s were constructed. Even though two crashed through mechanical failure, with no loss of life, the design was considered a success. No production contracts were procured and work on the design was halted.
The Dynavert featured a wing that could be tilted through 90 degrees, complete with two engines swinging large propellers. Vertical take-off was accomplished with the wing tilted. The transition to normal winged flight was accomplished by slowly returning the wing to a horizontal position. This procedure was reversed for vertical landing.
Current Location:
Vertical Flight Exhibition, Canada Aviation and Space Museum
Provenance:
Donation from Canadair Ltd.
This CL-84, the third prototype, was manufactured by Canadair Limited in Montreal in 1969. Though it was ground tested in 1969, it did not fly until September 1972, when test flights involving Canada, the United States and the United Kingdom began.
Starting in Canada, testing moved in December 1972 to the U.S. Navy Test Center at Patuxent River, Maryland, where the aircraft remained for most of the next eighteen months. Test exercises included the first convertiplane transition from conventional to hovering flight under blind flying conditions, which took place on April 5, 1973. Trials were also carried out from helicopter carriers USS Guam and USS Guadalcanal. In all, 196 test flights were completed, totalling over 169 flying hours. Without a market for the aircraft, the program was abandoned in 1974.
Canadair stored the CL-84 over the next decade, donating it to the Museum in 1984. Airtech Canada Aviation Limited of Peterborough restored the aircraft between July 1993 and October 1994.
Technical Information:
| | |
| --- | --- |
| Wing Span | 10.6 m (34 ft 8 in) |
| Length | 16.3 m (53 ft 7 1/2 in) |
| Height | 5.2 m (17 ft 1 1/2 in) |
| Weight, Empty | 3,980 kg (8,775 lb) |
| Weight, Gross | 6,577 kg (14,500 lb) |
| Cruising Speed | 497 km/h (309 mph) |
| Max Speed | 517 km/h (321 mph) |
| Rate of Climb | 1,280 m (4,200 ft) /min |
| Service Ceiling | Unknown |
| Range | 677 km (420 mi) |
| Power Plant | two Lycoming T.53 Model LTC 1K-4C, 1500 hp, turboprop engines |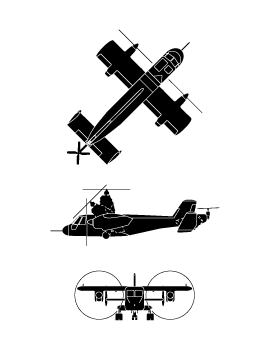 Canada Aviation and Space Museum
Manufacturer
Canadair Ltd.
Manufacturer Location
Canada
Registration Number
CX8402 (CAF)