Highlights:
A British twin-engine, long-range, heavy fighter produced by Bristol Aeroplane Company from 1939 to 1945
A modification of the Beaufort torpedo bomber design: its name combines "Beaufort" and "fighter"
First truly effective radar-equipped night fighter
Also proved very efficient in sinking ships, using rockets and torpedos
Ranked among the finest torpedo and strike aircraft of its day
Served in Europe, the Middle East and Asia
By September 1945, a total of 5,562 had been built in the U.K. and 365 in Australia, in a variety of models; some continued in front-line service into the 1950s
First flight was on July 17th, 1939
Image Gallery:
History:
The Beaufighter was designed as a long-range heavy fighter, with many components in common with the Bristol Beaufort torpedo bomber. It saw service as a night fighter, a torpedo bomber, a ground attack fighter and an anti-shipping aircraft. In addition to operations in Europe, it also served in the Middle East and Far East. By September 1945 a total of 5 562 had been built in a variety of models and many continued in front-line service into the 1950s.
The Beaufighter was the first effective radar-equipped night fighter. In early versions of the aircraft, the radar operator, in addition to his normal duties, was also responsible for the four 20-mm cannon with ammunition. Resupply could be difficult, especially when an aircraft was manoeuvring in pursuit of a target and the ammunition drums weighed about 18 kg (40 lbs) each.
Current Location:
Under restoration
Provenance:
Exchange with the Royal Air Force Museum, Great Britain
This aircraft was part of a batch of 500 built between September 1944 and August 1945. The Second World War was over when this aircraft left the factory and so it was put into storage. It the late 1940s, it was converted into a target tug, and was used by the RAF in the United Kingdom and Malta. It was retired and abandoned in December 1958.
When the RAF decided to create a museum in the early 1960s, few Beaufighters were known to have survived, and so this one was brought back in 1963. Three years later, it was restored as a night fighter with parts from another Beaufighter. In 1968, the restored aircraft was put on display (near Oxford) as part of the RAF's fiftieth anniversary celebrations, which were attended by Her Majesty the Queen. Later that year, it was exhibited in a parade ground in central London, where it remained for at least a year.
In April 1969, the RAF exchanged this Beaufighter for an ex-RCAF Bristol Bolingbroke from Canada's National Aeronautical Collection. In September, the Beaufighter components were airlifted to Ottawa's Uplands airport aboard a Canadian Armed Forces aircraft. The Beaufighter's engines, cowlings, and internal components were not included in the trade.
Technical Information:
| | |
| --- | --- |
| Wing Span | 17.6 m (57 ft 10 in) |
| Length | 12.7 m (41 ft 4 in) |
| Height | 4.8 m (15 ft 10 in) |
| Weight, Empty | 7,075 kg (15,600 lb) |
| Weight, Gross | 11,520 kg (25,400 lb) |
| Cruising Speed | 330 km/h (205 mph) |
| Max Speed | 490 km/h (305 mph) |
| Rate of Climb | 564 m (1,850 ft) /min |
| Service Ceiling | 5,790 m (19,000 ft) |
| Range | 2,250 km (1,400 mi) |
| Power Plant | two Bristol Hercules XVII, 1725 hp, sleeve-valve radial engines |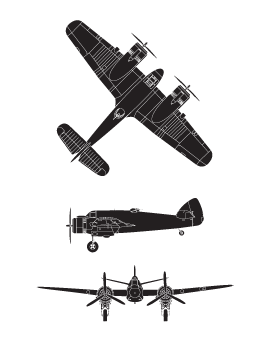 Canada Aviation and Space Museum
Manufacturer
Bristol Aeroplane Company Ltd.
Manufacturer Location
Great Britain
Registration Number
RD867 (RAF)