Highlights:
Designed in France in 1911 and developed by Raymond Saulnier, Leon Morane and Gilbert Borel, heads of the Société anonyme des aéroplanes Morane-Borel-Saulnier
A single-seater, single-engine monoplane used for recreational flight, aircraft racing and air demonstrations
Basic design was inspired by the Blériot XI, a French monoplane developed by Louis Blériot and Raymond Saulnier
Frequently flown in aircraft races by pioneering aviator Jules Védrines
First flight was in 1911
Image Gallery:
History:
In 1909, Louis Blériot gained world-wide fame for crossing the English Channel in his Blériot XI monoplane. Raymond Saulnier, who had worked with Blériot, soon left him to design and build an aeroplane of his own. Saulnier, with his childhood friend Leon Morane and Gilbert Borel, formed the Société anonyme des aéroplanes Morane-Borel-Saulnier in 1911 and developed the little monoplane known as the Borel-Morane.
This single-seat aircraft has a simple V-leg landing gear with a small skid beside each wheel, a tall double tail skid, elliptical wingtips and a high rectangular rudder. The tailplane is fitted with tip elevators and the aft fuselage was sometimes left uncovered. The wing is braced with wires attached to a pyramidal pylon and the aircraft was usually powered by a cowled Anzani or Gnome engine of about 50 hp. The number of ribs in the Borel-Morane wings varied with the aircraft version.
Current Location:
Pioneer era Exhibition, Canada Aviation and Space Museum
Provenance:
Purchase
This Borel-Morane is the only surviving aircraft of its type in the world and the oldest surviving aircraft to have flown in Canada. It was imported to the United States from France in 1912 by Georges Mestach, a Belgian exhibition pilot, and Ernest Mathis, Mestach's manager and mechanic. Mestach and Mathis exhibited the aircraft across North America, with stops that included Quebec City, Sherbrooke and Winnipeg.
The aircraft crashed several times, once in Winnipeg, where the harsh prairie winds proved too much for the Borel-Morane. Another crash occurred during an air meet in Chicago, and resulted in North America's first midair collision fatality. Earl S. Daugherty, an American exhibition pilot, then acquired and flew the aircraft and it remained in his family's possession until the Museum purchased it in 2002.
Conservation of the aircraft required a significant amount of time and resources. To learn more about the process, visit the Museum's Conservation page, under Collections.
Technical Information:
| | |
| --- | --- |
| Wing Span | 9.1 m (30 ft) |
| Length | 7.0 m (23 ft) |
| Height | 2.7 m (9 ft) |
| Weight, Empty | 250 kg (550 lb) |
| Weight, Gross | 320 kg (700 lb) |
| Cruising Speed | 90 km/h (55 mph) |
| Max Speed | 115 km/h (70 mph) |
| Rate of Climb | Unknown |
| Service Ceiling | Unknown |
| Range | Unknown |
| Power Plant | Gnome Omega rotary, 50 hp |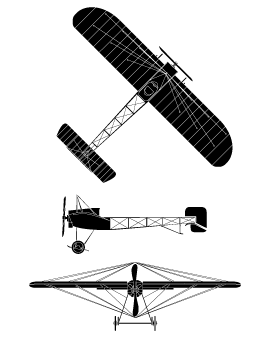 Canada Aviation and Space Museum
Manufacturer
Société anonyme des aéroplanes Morane-Borel-Saulnier
Manufacturer Location
France
Manufacture Date
1911/1912