Highlights:
Designed and built from 1933 to 1934 in the U.S., it could carry up to ten passengers and two crew members
Introduced in 1933, its all-metal construction set the pattern for future airliners
Designed with several innovative aerodynamic and technical features that outshone other early 1930s passenger aircrafts
Served primarily with American National Air Transport and United Air Lines; entered Canada in 1940 when the RCAF purchased eight, which were used in training and transport until 1942
First flight was on February 8, 1933 (Boeing 247)
Image Gallery:
History:
Introduced in 1933, the twin-engine low-wing Boeing 247, with its all-metal construction, set the pattern for successful airliners for the next 20 years. Although a good airplane, and bought by United Airlines and other U.S. carriers, its capacity proved too small and its passengers found it awkward to step over the main spar in the aisle. Although superseded by the famous Douglas DC-3 for main routes, 247s continued to operate into the 1950s with smaller airlines and private operators. Only 75 247s were built.
With a configuration consisting of an all-metal stressed skin, low cantilevered wing, retractable undercarriage, twin engines mounted on the leading edge of the wing, and variable-pitch propellers, Boeing scooped the field. The famous Douglas DC-1 and DC-2 were after-the-fact attempts to match the technical standards of the Boeing 247. It was the first airliner able to climb on one engine at full-load, one of the first with supercharged engines, and the first with control trim-tabs and cabin air-conditioning.
Current Location:
Airlines Exhibition, Canada Aviation and Space Museum
Provenance:
Donation from California Standard Oil Company, Alberta
This aircraft was manufactured as a 247 in 1934 by Boeing Aircraft Company and was converted to a 247D model in July 1935. It flew for more than ten different operators, including United Air Lines, the RCAF, Quebec Airways and Canadian Pacific Airlines. It was donated to the Museum in 1967 by its last operator, California Standard Oil of Calgary, Alberta. It is one of four complete 247s still existing; the others are located in the United States and the United Kingdom.
Technical Information:
| | |
| --- | --- |
| Wing Span | 22.6 m (74 ft) |
| Length | 15.7 m (51 ft 7 in) |
| Height | 3.8 m (12 ft 6 in) |
| Weight, Empty | 4,055 kg (8,940 lb) |
| Weight, Gross | 6,192 kg (13,650 lb) |
| Cruising Speed | 304 km/h (189 mph) |
| Max Speed | 322 km/h (200 mph) |
| Rate of Climb | 350m (1,150 ft) /min |
| Service Ceiling | 7,740 m (25,400 ft) |
| Range | 1,290 km (800 mi) |
| Power Plant | two Pratt & Whitney S1H1-G Wasp, 550 hp, 9-cylinder radial engines |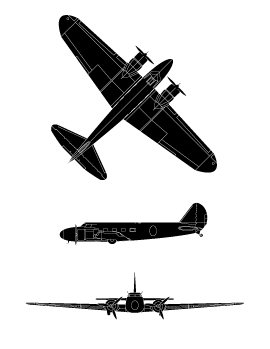 Canada Aviation and Space Museum
Manufacturer
Boeing Airplane Company
Manufacturer Location
United States
Registration Number
CF-JRQ