Highlights:
A single-engine monoplane designed and built in 1908 by pioneering French aviators Louis Blériot and Raymond Saulnier
Featured wings covered in linen, and an oak and poplar structure
First aircraft to be put to military use by France and Italy (1910) and Britain (1912)
Flown by Louis Blériot when he made the first airplane flight across the English Channel, on July 25, 1909
Became one of the first aircraft used in wartime when flown by the Italian army during the Italo–Turkish war in 1911
First flight was on January 23, 1909
Image Gallery:
History:
Although it looked fragile, the Bleriot XI was structurally strong and had considerable modification potential. It was the first aircraft put to military use by France and Italy in 1910 and subsequently by Britain in 1912. At the start of First World War, the French air force contained eight squadrons of Bleriots and the Royal Flying Corps flew several in France with the expeditionary force. The Italians had Bleriots when they entered the war. A total of 132 were built in five versions.
On July 25, 1909 "England's isolation ended once and for all" when the aircraft designer Louis Bleriot flew across the English Channel in a Bleriot XI. Lateral control was effected by wing warping and by having the main undercarriage wheels castered so that the aircraft could crab in a crosswind on the ground. This device made all operations on the ground very interesting. The Bleriot XI was the first aircraft used in war when it was flown by the Italian air force during the Italo-Turkish war of 1911.
Current Location:
Pioneer Era Exhibition, Canada Aviation and Space Museum
Provenance:
Purchase
The Museum's Blériot was built, from locally-available plans, by California Aero Manufacturing and Supply Company (San Francisco) in 1911, for John W. Hamilton. It is believed to be the first California-built airplane to fly.
Following a series of accidents, the aircraft was placed in storage in 1911. James Nissen and J. Mathiesen of San Jose, California purchased it in 1953. Between 1953 and 1971, the aircraft was partially restored and was displayed at several air shows across Southern California. The Museum acquired it in 1971.
Technical Information:
| | |
| --- | --- |
| Wing Span | 8.9 m (28 ft 6 in) |
| Length | 7.8 m (25 ft 2 1/2 in) |
| Height | 2.5 m (8 ft 4 in) |
| Weight, Empty | 240 kg (529 lb) |
| Weight, Gross | Unknown |
| Cruising Speed | 90 km/h (56 mph) |
| Max Speed | 100 km/h (62 mph) |
| Rate of Climb | Unknown |
| Service Ceiling | Unknown |
| Range | 300 km (186 mi) |
| Crew | one |
| Power Plant | one Elbridge Aero Special 60 hp, 4-cylinder, water-cooled engine |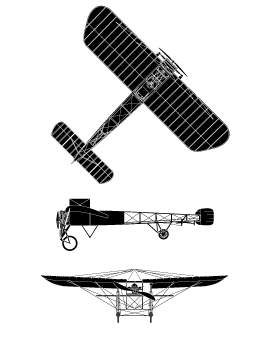 Canada Aviation and Space Museum
Manufacturer
California Aeroplane Manufacturing and Supply Company
Manufacturer Location
United States