Highlights:
First and last supersonic interceptor designed and built in Canada; developed between 1953 and 1959
Developed to counter jet-powered Soviet bombers that had potential to attack North America via the Canadian Arctic
Fitted with innovative technologies, including a fly-by-wire control system and a computerized control system that allowed the pilot to operate the aircraft electronically
Cancelled February 20, 1959 (known as "Black Friday"), a decision that remains controversial today
An icon of Canadian aviation history, it is featured in books, television programs, paintings and films
Drew international expertise to Canada with its U.K.-born chief engineer James C. Floyd and gifted Polish-born test pilot Janusz Zurakowski
First flight was on March 25th, 1958
Image Gallery:
History:
Intended to replace the Avro Canada CF-100, the CF-105 Arrow was a technical masterpiece at the forefront of aviation engineering during its time. The Canadian government believed, however, that the manned bomber threat was diminishing and that air defence could be better handled by unmanned BOMARC missiles. The contract was cancelled on February 20, 1959 while test flying was still in progress. By then five Arrows had flown. The government ordered all completed Arrows, related documentation, and equipment destroyed.
Sleek, elegant, and the stuff of mythology, the Avro Arrow is still alive in print and in memory. The Arrow met most of its performance requirements while flying with less powerful engines. One of the Canadian-made Iroquois engine designed for the Arrow was flight-tested attached to the rear fuselage of a Boeing B-47, but never powered the Arrow. At 28 tons, the Arrow was equivalent in weight to its ancient Avro relative, the Lancaster bomber.
Current Location:
Jet Age Exhibition, Canada Aviation and Space Museum
Provenance:
Transfer from the Defence and Civil Institute of Environmental Medicine
The Museum possesses the largest surviving piece of an Avro Arrow: its nose section. When the aircraft was disassembled after 1959, this piece was saved for use as a pressure chamber at the Institute of Aviation Medicine in Toronto. The Institute donated the nose section to the Museum in 1965.
Other Avro Arrow components in the Museum's collection include two undercarriage legs, an Orenda Iroquois engine, a Pratt & Whitney J75 engine that was used for test flights, wingtips and other small parts, along with memorabilia.
Technical Information:
| | |
| --- | --- |
| Wing Span | 15.2 m (50 ft ) |
| Length | 26.1 m (85 ft 6 in) |
| Height | 6.5 m (21 ft 3 in) |
| Weight, Empty | 19,935 kg (43,960 lb) |
| Weight, Gross | 28,319 kg (62,431 lb) |
| Cruising Speed | 1,128 km/h (701 mph) |
| Max Speed | 2,453 km/h (1,524 mph) |
| Rate of Climb | 15,240 m (50,000 ft) / 4 min 24 sec |
| Service Ceiling | 17,830 m (58,500 ft) |
| Range | 1,330 km (820 mi) |
| Crew | two |
| Power Plant | two Orenda Iroquois axial flow turbojet engines, 11,791 kg (26,000 lb) static thrust, with afterburner |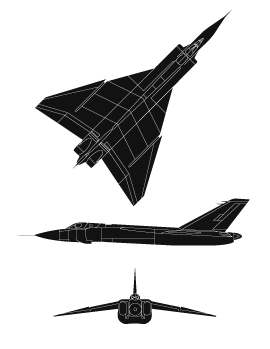 Canada Aviation and Space Museum
Manufacturer
A.V. Roe Canada Ltd.
Manufacturer Location
Canada
Registration Number
25206 (RCAF)