Highlights:
Became the first powered aircraft to fly in Canada when it took off at Baddeck, Nova Scotia on February 23, 1909, piloted by Canadian aviation pioneer John Alexander Douglas McCurdy
Designed and built by Alexander Graham Bell and members of the Aerial Experimental Association (A.E.A.)
Constructed out of steel tubing, wood, bamboo, friction tape, wire, rubberized fabric and doped linen; it had no brakes and was very difficult to manoeuvre
Its name was inspired by the silver-looking rubberized fabric used to cover the aircraft
First flight was in 1958
Image Gallery:
History:
The original Silver Dart was built by the Aerial Experiment Association formed by Alexander Graham Bell. The first controlled powered flight in Canada occurred February 23, 1909 when the Silver Dart was flown off the ice at Baddeck, Nova Scotia, by the designer J.A.D. McCurdy. Even though the Silver Dart was an experimental aircraft, an attempt was made to sell the aircraft to the Canadian Army. For various reasons this was unsuccessful.
The Silver Dart is a canard or "elevator in front" design. Like most aircraft of the time, it appears to have had poor control characteristics. It was made of steel tube, bamboo, friction tape, wire, wood, had no brakes, and was covered with rubberized silk balloon-cloth. The museum replica is covered with doped linen. The first passenger flight in Canada was made in the Silver Dart on August 2, 1909.
Current Location:
Pioneer Era Exhibition, Canada Aviation and Space Museum
Provenance:
Transfer from Royal Canadian Air Force
The Museum's Silver Dart is an airworthy replica built by RCAF volunteers. The idea of building and flying a replica aircraft on the fiftieth anniversary of the Silver Dart was first proposed by Lionel McCaffrey, RCAF. This aircraft was built in 1958 at No. 6 Repair Depot, RCAF at Trenton and was shipped to Baddeck on February 5, 1959.
Wing Commander Paul A. Hartman flew this Silver Dart at Baddeck on the anniversary, but high, gusty winds caused it to crash (the pilot, fortunately, was unhurt). Repaired for the occasion, the aircraft was the only full-scale aircraft exhibited on the Museum's opening day, October 25, 1960.
Technical Information:
Scroll to the right to view more of the table.
| | |
| --- | --- |
| Wing Span | 15 m (49 ft 1 in) |
| Length | 12 m (39 ft 4 in) |
| Height | 2.9 m (9 ft 7 in) |
| Weight, Empty | 277 kg (610 lb) |
| Weight, Gross | 390 kg (860 lb) |
| Cruising Speed | 69 km/h (43 mph) |
| Max Speed | 69 km/h (43 mph) |
| Rate of Climb | Unknown |
| Service Ceiling | 21.4 m (70 ft) |
| Range | N/A |
| Power Plant | one Continental A-65, 65 hp, horizontally-opposed engine |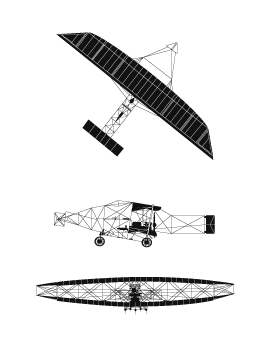 Canada Aviation and Space Museum
Manufacturer
No.6 Repair Depot, Royal Canadian Air Force
Manufacturer Location
Trenton, Ontario