Canada Aviation and Space Museum
Jun 1, 2019 - Jun 2, 2019
9:00 am - 5:00 pm
Fee
Included with admission
Have you ever met a real-life astronaut? This is your chance! Meet former Canadian astronauts Robert Thirsk and Dave Williams at the Canada Aviation and Space Museum as they teach you about medicine in flight.
What do eye doctors, pilots, cyber technology, and a MD-10 aircraft have in common? Find out at this family-friendly event, where members of Orbis International — a non-profit organization dedicated to saving sight worldwide — will show you how they help the world see clearly, one flight at a time.
Special presentation: How a Flying Eye Hospital is Changing the Way the World Sees
Sunday only, 10 a.m. and 1 p.m.
Presentation is in English only but questions may be asked, and will answered in, English or French.
Astronauts Robert Thirsk and Dave Williams will present the Flying Eye Hospital, run by Orbis International. Orbis representatives, FedEx volunteer pilot Cyndhi Berwyn and Deputy Chief of Programs Dr. Hunter Cherwek will talk about their important mission to improve eye care around the world. You'll even get a peek into Orbis International's amazing MD-10 aircraft through Livestream.
Cybersight technology simulators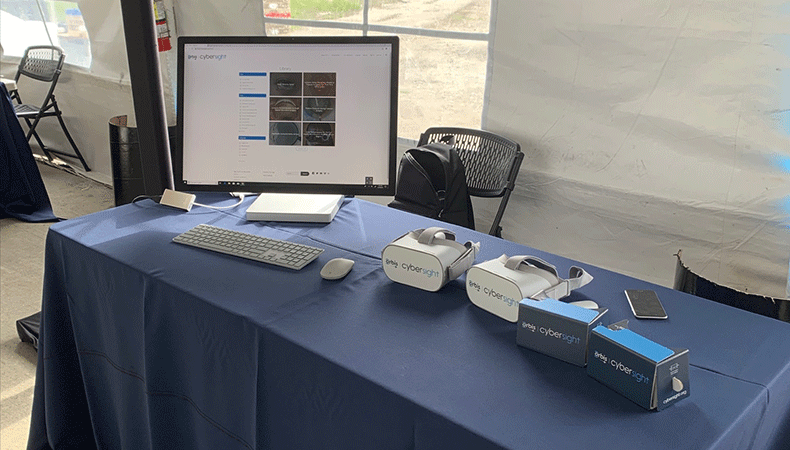 9 a.m. to 5 p.m.
Come and try Google Cardboard and the Oculus Virtual Reality goggles which demonstrate how Cybersight — the telemedicine platform for the Flying Eye Hospital — is used to train eye doctors all around the world!
Raffle to win a tour of the MD-10 aircraft!
Saturday only, 9 a.m. to 4 p.m.
Enter our raffle to win a tour for two on board Orbis International's Flying Eye Hospital, the MD-10 aircraft! The draw will take place at 4 p.m.
Ornge*
Sunday only from 11 a.m. to 2 p.m. (tentative)
*Weather and operational requirements permitting
Ornge provides land and air medical transport for ill and critically injured patients throughout Ontario.  This Saturday, Ornge will be flying in the AW139 AgustaWestland helicopter. Visitors will have the opportunity to see the aircraft up close and meet with the pilots and paramedics who fly and work on this wonderful flying machine!
General guided tours
10 a.m. and 2 p.m.
Discover the museum's superb collection, with a twist! To help recognize the arrival of Orbis International's Flying Eye Hospital to Ottawa, the museum will focus its tour on how aerospace technology has advanced to protect the human body in flight. While Orbis brings an eye hospital to people in need around the world, see which additional aircraft have flown people requiring medical care to the hospital.
Kids' tours (ages 4 to 7)
Saturday at 11 a.m.
Discover the museum's collection with different lenses with one of our specially-designed kids' tours. Tours take 40 to 50 minutes.
Zoom to the Moon (ages 3 to 6)
Sunday at 11 a.m. in the Mauril Bélanger Theatre
Listen to a cool story, put on your spacesuit, climb aboard your space box and blast off to see the stars before landing on the Moon.
Reserve Hangar tours ($)
11:30 a.m. and 2:30 a.m. (Times subject to change without notice)
The Reserve Hangar houses many of Canada's national aviation icons not currently on display on the museum floor. Get a behind-the-scenes tour that includes the de Havilland D.H. 98 Mosquito B XX, the Bristol Bolingbroke IVT, and the wing tips of the Avro CF-105 Arrow 2.
For safety reasons, group size is limited to 15. Space is assigned on a first-come, first-served basis. Not recommended for young children.
How do planes fly?
12 p.m.
For a pilot, being able to see clearly critical; good eyesight is key to a safe flight! When weather is poor and a pilot can't rely on eyesight alone, he or she depends on the "eyes" of the aircraft — an instrument panel indicating altitude, location, terrain, and other aircraft in the area. Join us for a special demonstration and learn about the parts of an airplane that enable it to lift off the ground and fly safely through the air. Following the demonstration, you'll have an opportunity to sit at the controls of a Cessna 150.
Ejection seat demonstrations
2 p.m.
Orbis International and the Flying Eye Hospital travel around the world to help improve the eyesight of many people. When a person has good eye sight, they can navigate the world safely; this is especially true for fighter pilots! Being able to see well keeps a pilot safe during a fire fight, while doing surveillance, or while simply flying from one location to the next. A fighter pilot has many tools that he or she uses to ensure they make it back in one piece. Learn what these tools are — plus see how an ejection seat and other gear can save a pilot's life!
Between the Planets
3 p.m.
Astronauts must have very good eyesight to be able to live and work aboard the International Space Station. Their research touches on many topics, including the effects of living in Space on the human body, whether we can grow plants in space, and what interesting objects can be found in our galaxy. Based on some of these discoveries, this session will explore what comets, asteroids, and meteorites have in common.