Canada Aviation and Space Museum
Sep 3, 2019 - Apr 30, 2020
10 a.m. - 5 p.m. (closed Tuesdays)
Days
Monday
Wednesday
Thursday
Friday
Saturday
Sunday
Times
10 a.m. - 5 p.m. (closed Tuesdays)
Fee
Included with admission
To help visitors make the most of their visit, the Museum offers a variety of regular programming. Children and adults alike will enjoy these family-friendly activities.
Tours
Explore the Museum's world-renowned collection in one of three ways:
Hang Glider Studio
This special activity area is the perfect place for families with young children. Enjoy LEGO®, puzzles, puppets, and more.
Cockpit Interpretation Centre
Want the experience of flight but prefer to keep your feet on the ground? Here is your chance to sit at the controls of an aircraft without taking off! Friendly, knowledgeable Museum staff will assist you in boarding one of two cockpits:
the Tutor (CT-114)
the MIG-21
Cessna 150 Cockpit
Sit at the controls of a Cessna 150. Practise takeoffs and landings, and get a feel for what it's like to fly this popular civilian airplane.
Flight Simulators
The Museum offers two flight simulators, open to the public at an additional cost. Climb aboard a replica of an F-16 cockpit and test your flight skills! Or, try the Redbird full-motion platform simulator, used to train pilots around the world.
Children's Activities
Take part in a specially designed children's educational programs weekends at 11 am.
Demonstrations
How do planes fly?
Daily at 12:00 p.m.
Find out about the different parts of an airplane that make it possible for it to lift off the ground and fly through the air.  Following the demonstration you will have an opportunity to sit at the controls of a Cessna 150.
Ejection Seat Demonstration
Daily at 2 p.m.
Learn how an ejection seat can save a pilot's life.
Between the Planets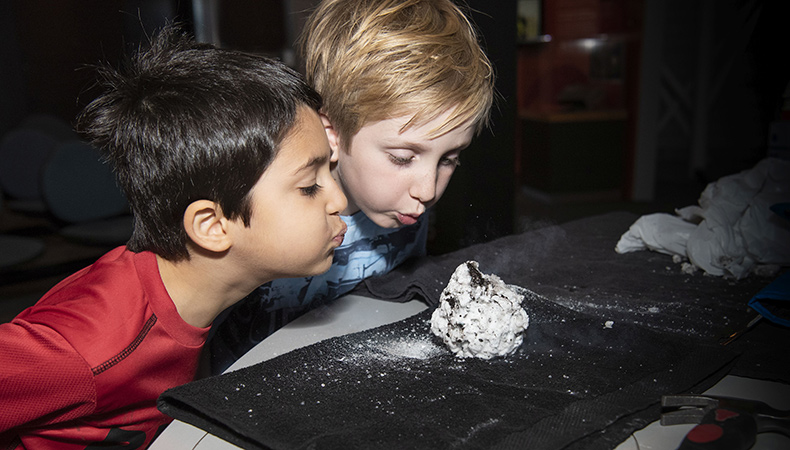 Weekends at 3 p.m.
Find out what comets, asteroids and meteorites have in common.