Schedule your own itinerary of aviation and space-related fun this Canada Day, with these hands-on activities for all ages! Check out our fun crafts — using everyday materials from around the house — which will have the kids showing their national pride for hours.
Choose from the following activities:
Don't forget to take a photo of your Canada Day crafty creations and share it on social media ensuring to tag the museum, @avspacemuseum and use the hashtag #CanadaDay!
---
Snowbirds Jet Trails
Materials
Scissors
Markers or crayons
Cotton balls (colourful ones are preferable but white cotton balls work, too)
Glue stick
Instructions
Cut out the six Snowbirds aircraft from page 1.
Stick the aircraft to the corresponding silhouettes on page 2.
Once the aircraft are attached, take the cotton balls and glue them along the "trail lines" behind each aircraft. 
Colour or decorate the rest of the image.
Download Snowbirds Jet Trails Activity 1 (PDF)
---
Canadair CT-114 Tutor 3-D Paper Airplane
Designed and built in Canada, the Canadair CT-114 Tutor was used for pilot training by the Royal Canadian Air Force and Canadian Forces from 1963 until 2000. The aircraft's side-by-side seating, reliability, and durability made it ideal for training. This aircraft is best known for its use in air demonstrations by the Canadian Forces' aerobatic team, the Snowbirds. Learn more about the Tutor with these fun activity sheets.
---
McDonell Douglas CF-188 3-D Paper Airplane
A twin-engine supersonic fighter and attack aircraft produced in the U.S., this aircraft is commonly known as a CF-18 in Canada. It became Canada's sole fighter aircraft, replacing McDonnell CF-101 Voodoos and Canadian-made Lockheed CF-104 Starfighters and Northrop CF-116s. Imagine flying a CF-18 as you complete these interactive activity sheets!
---
Junkyard Airplane
Materials
A pair of scissors
Glue stick or tape
Construction paper
Crayons or markers
Pipe cleaners
Assorted craft supplies, such as stickers, popsicle sticks, or feathers
Recycling items, such as toilet paper rolls, egg cartons, straws, cardboard boxes, or paper plates 
Instructions
Using the materials, you have on hand at home, invent and build an airplane, helicopter, rocket, or space shuttle! Be as creative as possible — can you show your Canada Day spirit through colours and decorations?
---
Make your own Parachute Person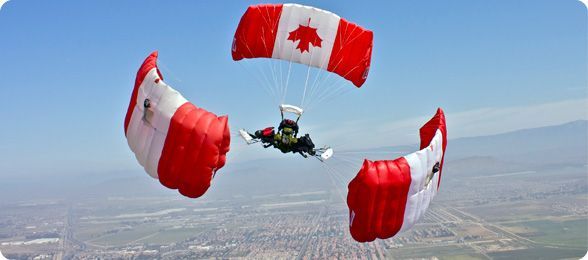 Materials
One plastic bag (any size) – no smaller than about 12" x 12"
A pen or marker 
A ruler
Scissors
A hole punch
Four strings of equal measure
A small object or toy of your choice
Instructions
Using your ruler, draw a square on the plastic bag and cut it out. 
In each corner of the square, make a hole and attach a string.
Join all four strings and tie them together. 
Attach a small object or toy at the end of the strings. 
Decorate the parachute as you wish.
---
Snowbirds Formations
Before and after every flight, the team of Snowbirds pilots and their experts carefully review manoeuvres using a number of tools. One such tool is this interesting group of 11 CT-114 Tutor models on skewers. This is simple but effective; you can see the 3D distance surrounding the Tutors when flying in formation.
Using the craft template above, print, colour, cut and assemble a model of the Canadair CT Tutor. Create a squadron of 11 and recreate some of the Snowbirds' signature formations.
Here are 3 of the 22 signatures formations.
http://www.rcaf-arc.forces.gc.ca/en/snowbirds/formations.page
---
Stereograms
Stereograms are amazing optical illusions of three dimensions hidden within two dimensions. To see the image, you need to unfocus your eyes and look through the stereogram. The picture becomes blurry and doubled and that is exactly what you want. This will cause pattern tiles to overlap each other and each eye will be seeing slightly different images. The difference in views will make your brain see hidden 3D image.
---
Recipe Suggestions from our Partners
Healthy avocado brownies
By Olivia Bistro
Dry ingredients:
250g of spelt flour or regular white flour
200g of cocoa
Wet ingredients:
500g avocado over ripe
250g of melted coconut oil
500 ml of maple syrup
10 ml of vanilla
5 eggs
Pre heat the oven to 375 degrees.
In a food processor, mix the wet ingredients until a homogeneous mixture is obtained.
Pass the dry ingredients through a sieve.
Pour the wet mixture into dry and stir with a whisk.
Grease with coconut oil the pan you're using , Pour the mixture into it and put in the oven.
For muffins cups cook it for 25 min / For a rectangular cake pan add 5 min more.
Enjoy at room temperature

Yellow Sun Smoothie (for 1)
By Olivia Bistro
In a blender add:
1/2 banana
75g mangoes
75g pineapples
5g fresh ginger
6oz plan or vanilla yogurt
4oz orange juice
Pour into a cup and enjoy!

Graham cracker pizelle cookies
4 tablespoons of salted butter
1/2 cup sugar
2/3 cups of flour
1/3 cup of graham cracker crumbs
2 eggs
1/4 cup of water or milk
1 teaspoon of vanilla
Mix melted butter with sugar until creamy, add eggs and vanilla. Add flour and graham cracker crumbs until combined (should be very thick).Add water or milk slowly until mixture is thinned out a bit.
Pour mixture by mini ice cream scoop onto hot pizelle press.Take off press and trim if needed.
You can also use this recipe for taco shells or bowls. Shape them while warm and work quickly.