Highlights:
A British single-seater fighter designed and produced by the Supermarine division of Vickers-Armstrong Limited from 1938 to 1948
Canadian aerodynamicist Beverley Shenstone (co-designer of the Harbinger sailplane) contributed to its design
Flown by many Allied air forces during the Second World War
Served on all fronts as an interceptor, photo reconnaissance airplane, fighter bomber and carrier-based fighter
Over 20,000 were built in twenty-four versions, each employed increasingly powerful Rolls-Royce Merlin or Griffon engines
Achieved legendary status during the Battle of Britain, fighting the Messerschmitt Bf 109
Flown by George Beurling (the most successful Canadian fighter pilot of the Second World War), who scored twenty-seven victories in two weeks over Malta
First flight was on March 6th 1936 (prototype)
Image Gallery:
History:
Among the most famous aircraft of all time, the Spitfire began operations before Second World War and was one of the few pre-war types to remain in first-line service until the end of the war and beyond. As the war progressed, the Spitfire received heavier armament and more powerful engines until it was twice as heavy and powerful as the original mark. In all, 21 554 were built in 24 different versions, including some 1 220 Seafires fitted for aircraft carrier operation.
The Mk. XVI appeared late in 1944 and differed from the Mk. IX in having a Packard Merlin instead of a Rolls-Royce built engine. Some were fitted with a bubble canopy.
Current Location:
On loan to the Canadian Warplane Heritage Museum
Provenance:
Transfer from the Royal Canadian Air Force
This Spitfire was manufactured by the Supermarine division of Vickers-Armstrong Limited at the Castle Bromwich Aircraft Factory in the United Kingdom in 1945. It was accepted by the RAF and served at the Central Gunnery School RAF in Leconfield, England from 1945 to 1950.
In the early 1950s the aircraft was removed from active service and stored. From 1956 to 1960 it was displayed at RAF Ternhill, England, initially for the Battle of Britain Day in September 1956.
It was loaned to the RCAF in 1960 and then stored in Mountain View, Ontario. In 1966 it was refinished as an aircraft from 416 Squadron and displayed at the Canadian War Museum until 1988. Though located at the Canadian War Museum, it became part of this Museum's collection in 1967.
The Spitfire was loaned to the Western Canada Aviation Museum in Winnipeg, Manitoba in 1988, and to the Canadian Warplane Heritage Museum at Mount Hope, Ontario in 2001.
Technical Information:
| | |
| --- | --- |
| Wing Span | 9.9 m (32 ft 7 in) |
| Length | 9.5 m (31 ft 3 in) |
| Height | 3.6 m (11 ft 8 in) |
| Weight, Empty | 2,674 kg (5,894 lb) |
| Weight, Gross | 3,759 kg (8,288 lb) |
| Cruising Speed | Unknown |
| Max Speed | 657 km/h (408 mph) |
| Rate of Climb | 1,210 m (3,970 ft) /min |
| Service Ceiling | 12,649 m (41,500 ft) |
| Range | 698 km (434 mi) |
| Power Plant | one Rolls-Royce (Packard) Merlin 266, 1,750 hp, V-12 engine |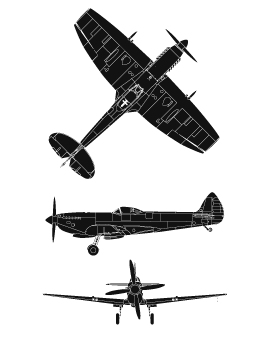 Canada Aviation and Space Museum
Manufacturer
Supermarine Division, Vickers Armstrong Ltd.
Manufacturer Location
Great Britain
Registration Number
TE 214 (RAF)