Highlights:
A British single-seater, vertical and short-take-off-and-landing (V/STOL) fighter bomber designed and produced by Hawker Siddeley Aviation from 1966 to 1976
First operational V/STOL fixed-wing aircraft in service; known as "the Jump Jet"
Featured a Rolls-Royce Pegasus turbofan engine: thrust could be directed straight aft for normal flight or down for take-off and landing
Used in ground attack, for close support of ground troops and in reconnaissance
AV-8A was the first generation of Harrier series; an improved version (Harrier II) was jointly produced by McDonnell Corporation and British Aerospace between 1982 and 1997
Harrier II remains in active duty
First flight was on August 31st, 1966 (prototype)
Image Gallery:
History:
The British Harrier ground attack fighter is one of the most innovative aircraft ever designed and the first vertical takeoff and landing (VTOL) fixed-wing aircraft to go into service. A key element of its success is the Rolls-Royce Pegasus vectored-thrust turbofan engine.
The first P.1127 proof of concept prototype hovered briefly in October 1960. Later trials showed its exceptional capabilities. The Royal Air Force (RAF) ordered its first production Harriers in 1966 and deliveries to a combat squadron began in 1969. The United States Marine Corps, with its need for close air support in areas often without airfields, has been an enthusiastic user since 1971.
Current Location:
Vertical Flight Exhibition, Canada Aviation and Space Museum
Provenance:
Loan from the U.S. Marine Corps
This Harrier was manufactured by Hawker Siddeley Aviation in the United Kingdom in 1973. It entered service with the U.S. Marine Corps in September that year. The aircraft served with three attack squadrons and was used on the east and west coasts of the United States, the Hawaiian Islands and in Japan. It was also attached to assault ships USS Guam, USS Peleliu and USS Inchon. The aircraft was taken out of service in 1985.
Since 1997, the aircraft has been on long-term loan to the Museum from the U.S. Naval Inventory Control Point in Philadelphia. This loan was the result of an initiative of British Aerospace, the cooperation of the U.S. government and the financial assistance of Rolls-Royce.
Technical Information:
| | |
| --- | --- |
| Wing Span | 7.7 m (25 ft 3 in) |
| Length | 13.9 m (45 ft 6.6 in) |
| Height | 3.45 m (11 ft 4 in) |
| Weight, Empty | 5,533 kg (12,200 lb) |
| Weight, Gross | 11,429 kg (25,200 lb) |
| Cruising Speed | Unknown |
| Max Speed | 1,190 km/h (740 mph) |
| Rate of Climb | 6,860 m (22,500 ft) /min |
| Service Ceiling | 15,600 m (51,200 ft) |
| Range | 3,760 km (2,340 mi) |
| Power Plant | One 9,750 kg (21,500 lb) static thrust Rolls-Royce F402-RR-401(Pegasus 103) vectored-thrust turbofan engine |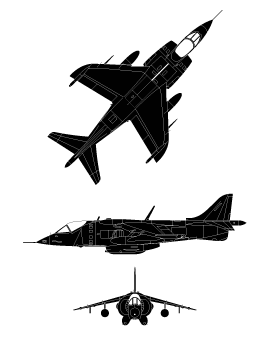 Canada Aviation and Space Museum
Manufacturer
Hawker Siddeley Aviation
Manufacturer Location
Great Britain
Registration Number
158966 (U.S. Navy)