Highlights:
An American twin-engine, anti-submarine aircraft designed and manufactured mainly by Grumman Aircraft Engineering Corporation from 1952 to 1967
Its wings folded to save space on aircraft carriers
Designed for the U.S. Navy but also used by other navies
Served on the Canadian aircraft carrier HMCS Bonaventure and on shore bases
Manufactured under licence by de Havilland Canada from 1956 to 1960
Only Canadian-built aircraft ordered for the Royal Canadian Navy
Many converted into forest-fire water bomber; Conair Aviation of Abbotsford, British Columbia converted several aircraft
First flight was on May 31, 1956 (CS2F-1)
Image Gallery:
History:
The Tracker was the first Canadian-built aircraft ever ordered for the Royal Canadian Navy. It replaced the aging Grumman Avenger as the Navy's anti-submarine patrol aircraft. With the retirement of the aircraft carrier HMCS Bonaventure, the Tracker reverted to land-based coastal surveillance. In 1960, 17 Canadian Trackers were given to the Netherlands. When the Trackers were retired from the Canadian Forces some were converted to water bombers and are still active in the 1990s. Canada built a total of 99.
The Tracker's detection equipment was similar to what larger, land-based patrol aircraft like the Canadair Argus carried. The Tracker also flew equipped with sonobuoys, smoke markers, torpedoes, flares, and explosive charges, but in much smaller quantities than the Argus.
Current Location:
Reserve Hangar, Canada Aviation and Space Museum
Provenance:
Transfer from Canadian Forces
This Tracker was manufactured by de Havilland Canada for the Royal Canadian Navy in 1960. It was taken on strength in April 1960 and began service with VS 880 Squadron aboard HMCS Bonaventure late in the following year. Based off "Bonnie" for the next eight years, the aircraft was used on missions and exercises to Europe, the Caribbean and South America.
In November 1969, the Tracker was transferred to VU 33 Squadron at Canadian Forces Base Patricia Bay, British Columbia to support ships operating there. It was transferred back to VS 880 Squadron in early 1974, this time at CFB Shearwater, Nova Scotia (HMCS Bonaventure had been retired). It was used at Canadian Forces bases in Nova Scotia and Prince Edward Island for maritime surveillance and fishery patrol until 1990, when the aircraft was retired. In April of that year, the Tracker was donated to the Museum and flown to Rockcliffe airport.
Technical Information:
| | |
| --- | --- |
| Wing Span | 21.2 m (69 ft 8 in) |
| Length | 12.9 m (42 ft 3 in) |
| Height | 5 m (16 ft 3 1/2 in) |
| Weight, Empty | 7,935 kg (17,500 lb) |
| Weight, Gross | 10,975 kg (24,195 lb) |
| Cruising Speed | 241 km/h (150 mph) |
| Max Speed | 438 km/h (272 mph) |
| Rate of Climb | 710 m (2,330 ft) /min |
| Service Ceiling | 6,949 m (22,800 ft) |
| Range | 1,558 km (968 mi) |
| Power Plant | two Wright R-1820-82-MR5 Cyclone 1,525 hp, radial engines |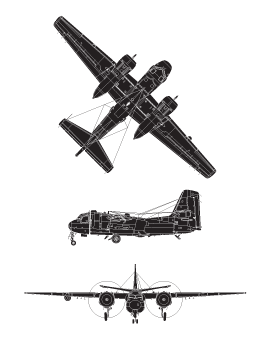 Canada Aviation and Space Museum
Manufacturer
de Havilland Aircraft of Canada Ltd.
Manufacturer Location
Canada
Registration Number
12187 (CAF)