Highlights:
A single-engine utility aircraft with the same capabilities of the DHC Beaver but twice the size, hence its original name, "King Beaver"
Designed in 1950
Used for search-and-rescue operations and to develop water-bombing techniques for fighting forest fires
Flown during the first overland crossing of Antarctica, in 1957
One of several de Havilland Canada aircraft named after North American wildlife
A short-take-off-and-landing (STOL) aircraft (requires minimal space to take off and touch down on land, water or snow), along with de Havilland Canada's Beaver, Caribou, Buffalo, Twin Otter and Dash 7
Predecessor of the Twin Otter, a larger aircraft with a greater load-carrying capacity and two engines
First flight was on December 12th, 1951
Image Gallery:
History:
The Otter had good load-carrying ability, great reliability, and excellent short take-off-and-landing capabilities, all of which recommended it for both civil and military use. The US Army and US Navy used Otters and the RCAF operated 69, some of which served overseas on United Nations duties. Otters also served with nine other air forces, and civilian versions flew in 36 countries. About 450 were made.
The Otter was built in response to a need for an aircraft like the Beaver, but twice as large. Otters were too large and expensive for small operators, but found favour with larger organizations. Otters were used to develop the water-bombing techniques so common today.
Current Location:
Reserve Hangar, Canada Aviation and Space Museum
Provenance:
Transfer from the Canadian Armed Forces
This Otter was built in 1960 and purchased by the RCAF soon after. It served with reserve squadrons and two search-and-rescue units, one in Alberta and the other in Montreal, before the type was retired in 1982. It was transferred to the Museum in 1983, having been refinished in RCAF Air Transport Command markings.
Technical Information:
| | |
| --- | --- |
| Wing Span | 17.7 m (58 ft) |
| Length | 12.8 m (41 ft 10 in) |
| Height | 4 m (13 ft) |
| Weight, Empty | 2,398 kg (5,287 lb) |
| Weight, Gross | 3,628 kg (8,000 lb) |
| Cruising Speed | 222 km/h (138 mph) |
| Max Speed | 258 km/h (160 mph) |
| Rate of Climb | 305 m (1,000 ft) /min |
| Service Ceiling | 5,730 m (18,500 ft) |
| Range | 1,545 km (960 mi) |
| Power Plant | one Pratt & Whitney S1H1-G Wasp, 600 hp, radial engine |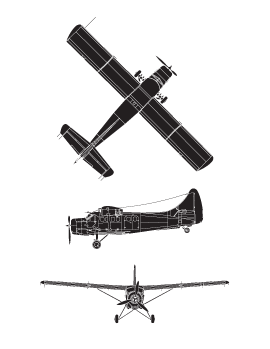 Canada Aviation and Space Museum
Manufacturer
de Havilland Aircraft of Canada Ltd.
Manufacturer Location
Canada
Registration Number
9408 (RCAF)