Highlights:
A single-engine jet fighter designed by North American Aviation Incorporated and produced in Canada by Canadair Limited between 1950 and 1958
Named F-86 in the U.S.
Became the dominant Western fighter aircraft in the early 1950s and was used by the U.S. Air Force in Korea against MiG-15s
Served with the RCAF in Europe in its commitment to NATO
Reached supersonic speeds in dives - first achieved in Canada by test pilot Al Lilly, in 1950 when he broke the sound barrier
Mark 5 and 6 aircraft (built only in Canada) were improved with powerful Canadian-designed Orenda engines
Flown by the RCAF's Golden Hawks aerobatic team from 1959 to 1964
First flight was on October 1st, 1947
Image Gallery:
History:
In 1948 the RCAF chose the North American-designed F-86 Sabre as its next fighter, to fulfil its NATO commitment in Europe. These Sabres were built by Canadair in Montreal. Early Sabres were similar to their American counterparts, but the Sabre 5 and Sabre 6 had Canadian-designed-and-built Orenda engines. The Sabre 6, with its extra power and slatted wing, was the finest version of the airplane built by Canadair. Canadian Sabres served in Canada and with Canadians overseas, as well as in the air forces of Britain, West Germany, South Africa, Columbia and the United States.
Clad in metallic-gold paint, the Sabre 6s of the Golden Hawks were an impressive sight. The aerobatic team used the superb handling characteristics and slatted wings of this aircraft to great advantage. The Sabre 6 could execute a 360-degree turn within the runway boundaries of an average airfield, a feat not achievable by most other jets of the period.
Current Location:
On loan to the Canadian Warplane Heritage Museum
Provenance:
Transfer from the Royal Canadian Air Force
This Sabre 6 was manufactured in 1956 by Canadair Limited in Montreal, Quebec and was accepted by the RCAF in May of that year. In June the aircraft was delivered to No. 2 Fighter Wing RCAF station at Grostenquin, France. For the next four years it was used in France and Scotland in support of NATO.
The Sabre was returned to Canada in late 1960, when it was taken on by No. 6 Repair Depot in Trenton, Ontario. In the spring of 1961 the aircraft was moved to the RCAF station in Chatham, New Brunswick, where it stayed until October of the following year. It was then returned to Trenton and, in 1963, made part of the Golden Hawks unit. The Golden Hawks were an aerobatic team that flew Sabres painted metallic gold. Formed in 1959 to celebrate the fiftieth anniversary of powered flight in Canada, the team appeared at air shows in Canada over five years. This Golden Hawk was retired by the RCAF in 1963.
The aircraft was transferred to the Museum in April 1964. It was displayed at the National Museum of Science and Technology from 1967 to 1986. It is currently on loan to the Canadian Warplane Heritage Museum in Mount Hope, Ontario.
Technical Information:
| | |
| --- | --- |
| Wing Span | 11.6 m (37 ft 11 1/2 in) |
| Length | 11.4 m (37 ft 6 in) |
| Height | 4.5 m (14 ft 9 in) |
| Weight, Empty | 4,816 kg (10,618 lb) |
| Weight, Gross | 6,628 kg (14,613 lb) |
| Cruising Speed | 787 km/h (489 mph) |
| Max Speed | 975 km/h (606 mph) |
| Rate of Climb | 10,668 m (35,000 ft) / 4 min 42 sec |
| Service Ceiling | 16,460 m (54,000 ft) |
| Range | 584 km (363 mi) |
| Power Plant | one Avro Canada Orenda 14, 3,300 kg (7,275 lb) static thrust turbojet |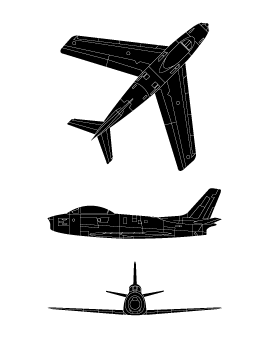 Canada Aviation and Space Museum
Manufacturer
Canadair Ltd.
Manufacturer Location
Canada
Registration Number
23651 (RCAF)