Highlights:
A two-seater biplane designed in 1913 in the U.K. by A.V. Roe and Company Limited (Avro)
Served in reconnaissance and anti-Zeppelin patrols during the First World War, but was later developed as a trainer aircraft
Selected in 1920 as the standard trainer for the Canadian Air Force, remaining in service until 1928; a postwar version (Avro 504N) was built in Canada and served with the RCAF until 1930
A civilian Avro 504 made one of the first commercial passenger bush flights in Canada: two passengers seated in an enlarged front cockpit were flown from Winnipeg to Le Pas, Manitoba in October 1920
First flight was in September 1913 (Avro 504)
Image Gallery:
History:
The Avro 504 series was used early in First World War for reconnaissance and anti- Zeppelin patrols, but was subsequently developed as a trainer. A Canadian version was in production just as the war ended, but only two were built. In 1920, the Avro 504K was selected as the standard trainer for the Canadian Air Force and remained in service until 1928 when six were sold for civilian use.
A civil Avro 504K is credited with one of the first commercial passenger flights into the Canadian bush on 15 to 17 October, 1920. Two passengers seated in an enlarged front cockpit were flown from Winnipeg to Le Pas. An ex-Air Force 504 made the first winter flight to James Bay in 1922.
The Turnbull variable-pitch propeller was tested on an Avro 504 at Camp Borden, Ontario on 29 June, 1927.
Current Location:
On loan to CFB — Camp Borden
Provenance:
Transfer from RCAF
This Avro 504K was manufactured in 1918 by the Grahame-White Aviation Company Limited of London, England. The aircraft's early history is unknown, beyond the fact that it was owned by a number of people.
In 1961, this aircraft was purchased by Major James S. Appleby of Torrance, California, who restored much of its fuselage. Appleby later sold it to the RCAF. It was flown on a Lockheed CC-130 Hercules cargo plane to Trenton, Ontario, where it was restored by the No. 6 Repair Depot. Restoration took place between May and October 1966. The aircraft was finished in the markings G-CYCK: one of the original Canadian Air Force 504Ks, which was accepted in November 1920 and crashed a year later.
This 504K was flown by RCAF pilots during the Centennial Flying Displays presented across Canada in 1966–1967. The aircraft was transferred to the Museum by the Canadian Armed Forces in March 1968, where it was kept in flying condition and flown on special occasions. It is currently on loan to Canadian Forces Base Borden, Ontario.
Technical Information:
| | |
| --- | --- |
| Wing Span | 11 m (36 ft) |
| Length | 9 m (29 ft 5 in) |
| Height | 3.2 m (10 ft 5 in) |
| Weight, Empty | 560 kg (1,230 lb) |
| Weight, Gross | 830 kg (1,830 lb) |
| Cruising Speed | 120 km/h (75 mph) |
| Max Speed | 153 km/h (95 mph) |
| Rate of Climb | 1,070 m (3,500 ft) / 5 min |
| Service Ceiling | 4,877 m (16,000 ft) |
| Range | 400 km (250 mi) |
| Crew | two or three |
| Power Plant | one Le Rhone 9Jb 110-hp rotary engine |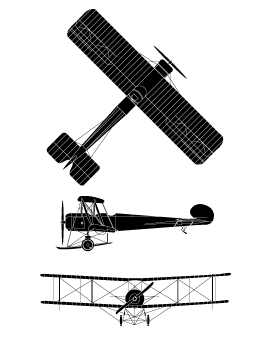 Canada Aviation and Space Museum
Manufacturer
Grahame-White Aviation Co.
Manufacturer Location
Great Britain
Registration Number
G-CYCK