Highlights:
A U.K. five- or six-seater, light twin-engine airliner converted from a wartime Oxford trainer by Airspeed Limited and produced from 1937 to 1945
Oxfords were flown at Canadian training schools alongside Avro Ansons, but were more challenging to fly
Airspeed bought back over 160 surplus Oxfords from the RAF to refurbish and resell as Consuls
Conversion entailed adding two more passenger windows and lengthening the nose to provide a luggage compartment between cabin and cockpit
Served as small charter, air ambulance, military VIP transport and executive aircraft for large companies in Europe, North America and East Africa
First Consul flown was operated by the Bata Shoe Company
First flight was in June 1937 (Oxford)
Image Gallery:
History:
The Consul started life as an Airspeed Oxford, an aircraft used extensively as a pilot and aircrew trainer in the British Commonwealth Air Training Plan during Second World War. Immediately after the war some Oxfords were "civilianized"" by removing wartime equipment and introducing passenger seating.
Airspeed had the reputation of building speedy, light single- and twin-engine transports. The Oxford/Consul was no exception, but was considered by some to be much trickier to fly than the Avro Anson, its stablemate at training schools.
Current Location:
On loan to the Air Force Museum of New Zealand
Provenance:
Purchase
This Consul was manufactured for the RAF as an Oxford Mk. I by Airspeed Limited in Portsmouth, England in 1945. After brief use during the war, it was resold to the manufacturer for conversion to a Consul in late 1946.
Once converted, the Consul was leased to Chartair Limited in London. In January 1947 it was sold to Airwork Limited in London and flown as an aircrew trainer and for various military contracts. Rapid Flying Group Limited in Coventry acquired the aircraft in 1962.
Deemed no longer airworthy in 1965, the aircraft was sold and shipped to the Canadian War Museum, transferred to Rockcliffe airport, and then moved to the Museum the following year. The Museum had intended to restore the aircraft as an Oxford, to complete its collection of Second World War twin-engine trainers used in Canada, but the project did not go ahead at that time.
In 2000 the Consul was loaned to the Air Force Museum of New Zealand, where it is being restored as an Oxford.
Technical Information:
Scroll to the right to view more of the table.
| | |
| --- | --- |
| Wing Span | 16.3 m (53 ft 4 in) |
| Length | 10.8 m (35 ft 4 in) |
| Height | 3.1 m (10 ft, 1 in) |
| Weight, Empty | 2,720 kg (6,000 lb) |
| Weight, Gross | 3 740 kg (8,250 lb) |
| Cruising Speed | 260 km/h (160 mph) |
| Max Speed | 300 km/h (190 mph) |
| Rate of Climb | 325 m (1,070 ft) /min |
| Service Ceiling | 7,163 m (23,500 ft) |
| Range | 1,448 km (900 mi) |
| Crew | two |
| Power Plant | two Armstrong Siddeley Cheetah X, 375-hp engines |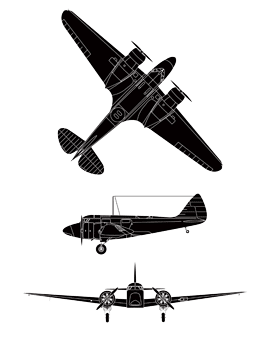 Canada Aviation and Space Museum
Manufacturer
Airspeed Limited
Manufacturer Location
Great Britain
Registration Number
G-AIKR (UK)